Investing in state-of-the-art technology that promises high efficiency does not guarantee optimal operating parameters. The basis for establishing efficient operation is a good understanding of the process and its scope, and control of the factors that influence the operating parameters. Therefore, there has been a growing interest in providing energy services to meet energy and environmental targets.

Some new companies, defined as Energy Service Companies (ESCOs), offer energy services to final energy users, including the supply and installation of energy-efficient equipment, and energy renovation of buildings. The main difference between these companies and traditional energy consultants or equipment suppliers is that they can also finance or arrange finance of the operation, and their payments are directly tied to service performance.

Energy services include a wide range of activities, such as:
energy analysis and audits
energy management
project design and implementation
maintenance and operation
monitoring and evaluation of savings
asset management
energy supply,
equipment supply,
provision of service (heating, cooling, lighting, etc.)
An ESCO company usually offers energy services, including implementing energy efficiency and renewable energy projects on a turnkey basis. The three main characteristics that define ESCO company are: The ESCO company can provide finance for the energy-saving operation. The ESCO company can guarantee energy savings or the provision of the same level of energy service at a lower price. The main goal of ESCO projects is that energy savings will be sufficient to repay monthly debt and service costs. The remunerations of the ESCO company are directly tied to the achieved energy savings goals. Therefore, the ESCO company accepts risks to improve energy efficiency in a user's facility.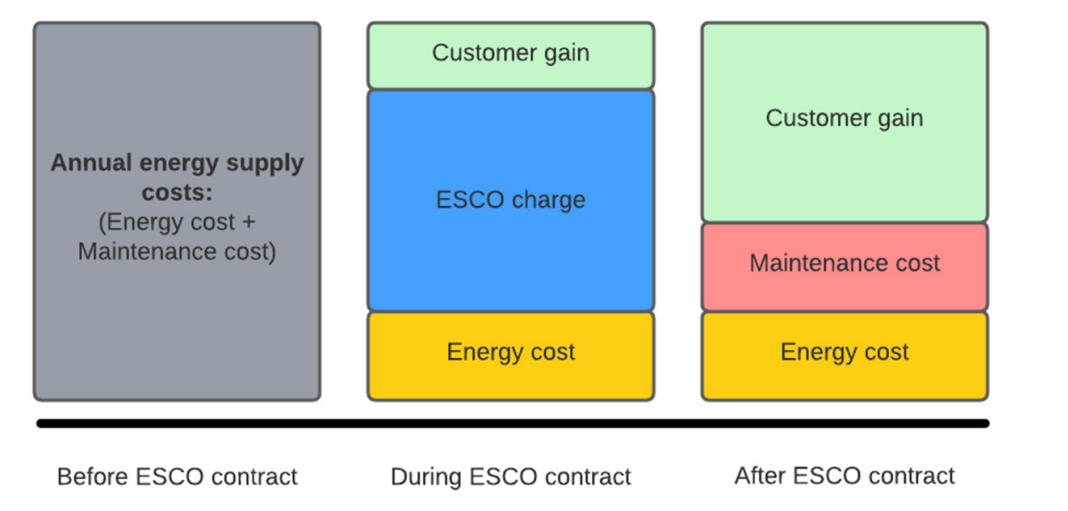 Basic ESCO business model concept.

The typical ESCO project includes the following elements:
site survey and preliminary evaluation,
investment-grade energy audit,
identification of possible energy savings and efficiency improvements,
the financial design,
project financing,
performance guarantee by proper contract clauses,
comprehensive engineering and project planning,
construction, delivery, and installation of equipment,
project management, commissioning, and acceptance,
operation & maintenance for the contract period,
supply of fuel & energy,
continual measurement and verification of results for the contract period.
As the ESCO business model is very complex and involves many stakeholders, it is essential that the working process is as transparent as possible and that stakeholders have insights into the agreements and decisions that are made on a particular project.
As ESCO remuneration is directly linked to meeting goals, avoiding mistakes is particularly essential. If mistakes are made, it is necessary to resolve them as quickly as possible and update the knowledge base so that we don't repeat them in the future. In this case, the guided business flows come into action so that the lessons learned are immediately integrated into the workflow, so even less experienced workers can meet the performance standards of the ESCO company.
Therefore, it is advisable to use specialised IT tools that provide a 360° business process view that simplifies employees' work and gives managers a one-stop overview of how objectives are achieved. In the coming years, there will be increasing demand for ESCO products to reduce the environmental impact and the cost of energy supply due to climate change. To provide Energy Companies with tools to better meet market demands, BE-terna is preparing digital solutions to meet these needs.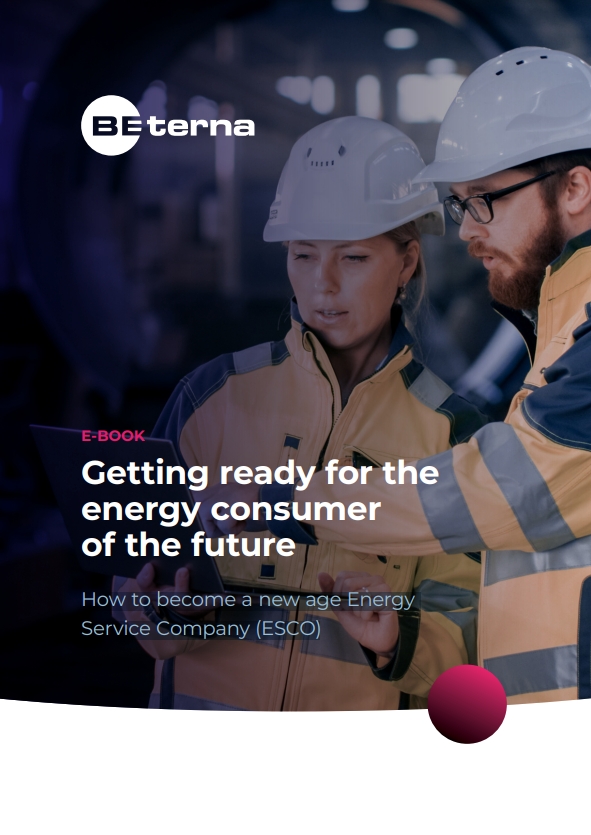 Download E-BOOK
E-BOOK Getting ready for the energy consumer of the future
How to become a new age Energy Service Company (ESCO)


Download E-BOOK