Are you using Microsoft ERP solutions for your business? If so, you need to know how long they are supported and when they reach the end of support. This is crucial for ensuring your systems are secure, up-to-date, and productive. In this blog post, we will explain what end of support means, why it matters, and how you can check the support status of your Microsoft ERP solutions. We will also show you how BE-terna can help you migrate to the latest versions of Microsoft ERP solutions and guarantee end-to-end security for your business.

What is end of support?

End of support is when Microsoft stops providing security updates, software updates, technical support, or online content updates for a product or service. This means that if you continue using an unsupported product or service, you will be exposed to greater risks of viruses, malware, hackers, and data breaches.
Microsoft has a lifecycle policy that defines how long each product or service is supported. The lifecycle policy varies depending on the type of product or service (such as operating system, server, application, cloud service etc.) and the specific version or edition.
You can find out more about Microsoft's lifecycle policy here: https://support.microsoft.com/en-us/lifecycle.

Why does end of support matter?
End of support matters because it affects the security and performance of your systems. Without security updates, your systems become vulnerable to cyberattacks that can compromise your data, damage your reputation, and cost you money.
Without software updates, your systems may not work well with other applications or devices that are updated regularly. This can cause compatibility issues, errors, and crashes that can disrupt your operations and productivity.
Without technical support or online content updates, you will not be able to get help from Microsoft if you encounter any problems with your systems. You will also miss out on new features and improvements that Microsoft releases for its products and services.
Therefore, it is important to keep track of when your Microsoft products and services reach end of support and plan ahead for migration or upgrade.

How to check the support status of your Microsoft solutions?

To check the support status of your Microsoft solutions, you need to know three things:
The name of the product or service
The version or edition
The release date
The graph below displays the high-level dependencies between your ERP solution, your Windows Server, and your SQL Server. The version of each system must be compatible to ensure the highest software security developed by Microsoft. To know which versions match, Microsoft provides information about their System Requirements online.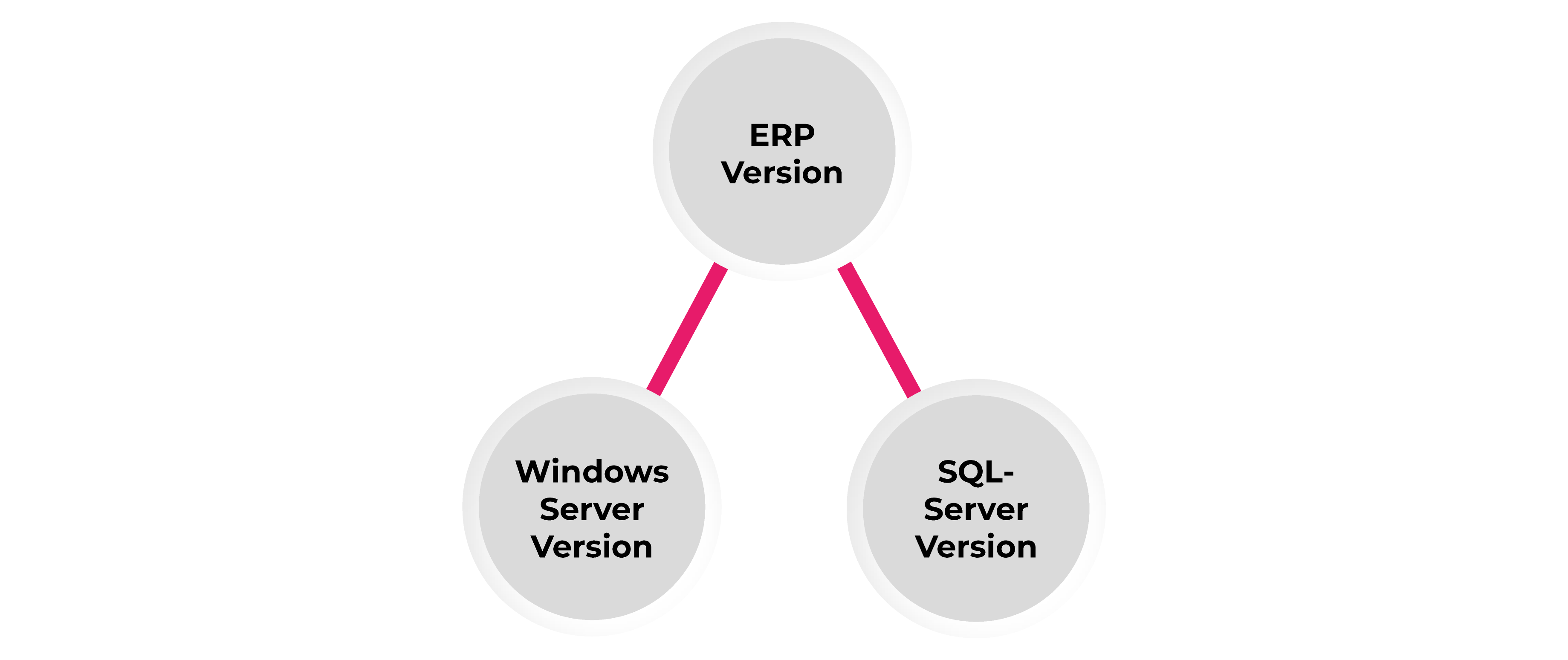 ERP solutions

For example, if you are using Dynamics AX 2012 R3 released in May 2014 you need to look up this information in the Microsoft lifecycle database: https://docs.microsoft.com/en-us/lifecycle/products/.
There you will find out that Dynamics AX 2012 R3 has a mainstream support end date of October 12th 2021 and an extended support end date of January 10th 2023.


This means that after 12 October 2021 Microsoft will stop providing non-security updates such as bug fixes and feature enhancements for Dynamics AX 2012 R3. And after 10 January 2023 Microsoft will stop providing security updates as well.

If you are using Dynamics NAV 2018 the Mainstream End Date was in January 2023, the extended support will end in January 2028, as you can see on the screenshot below.

Windows server
The Windows Server needs a specific Version as well. You need to pay attention to which Windows Server is compatible with the ERP Version you are using.
Example: Company XY is running on a Windows Server 2012 R2:


As it can be seen in the screenshot, the Windows Server Mainstream End Date passed in 2018. By October 2023 Windows 2012 R2 is out of extended support – no Security Updates will be provided anymore. In this example, we suggest updating to Windows 2016 till October 2023.
SQL

s

erver
The procedure for the SQL Server is similar. Make an online web research to learn about Support Dates, Compatible Versions, Releases and Service Packs (e.g. Microsoft Lifecycle Policy, MS Learn, MS Documentation, MS Blogs, Forums, ...)
Example: Company XY is on SQL Server 2016: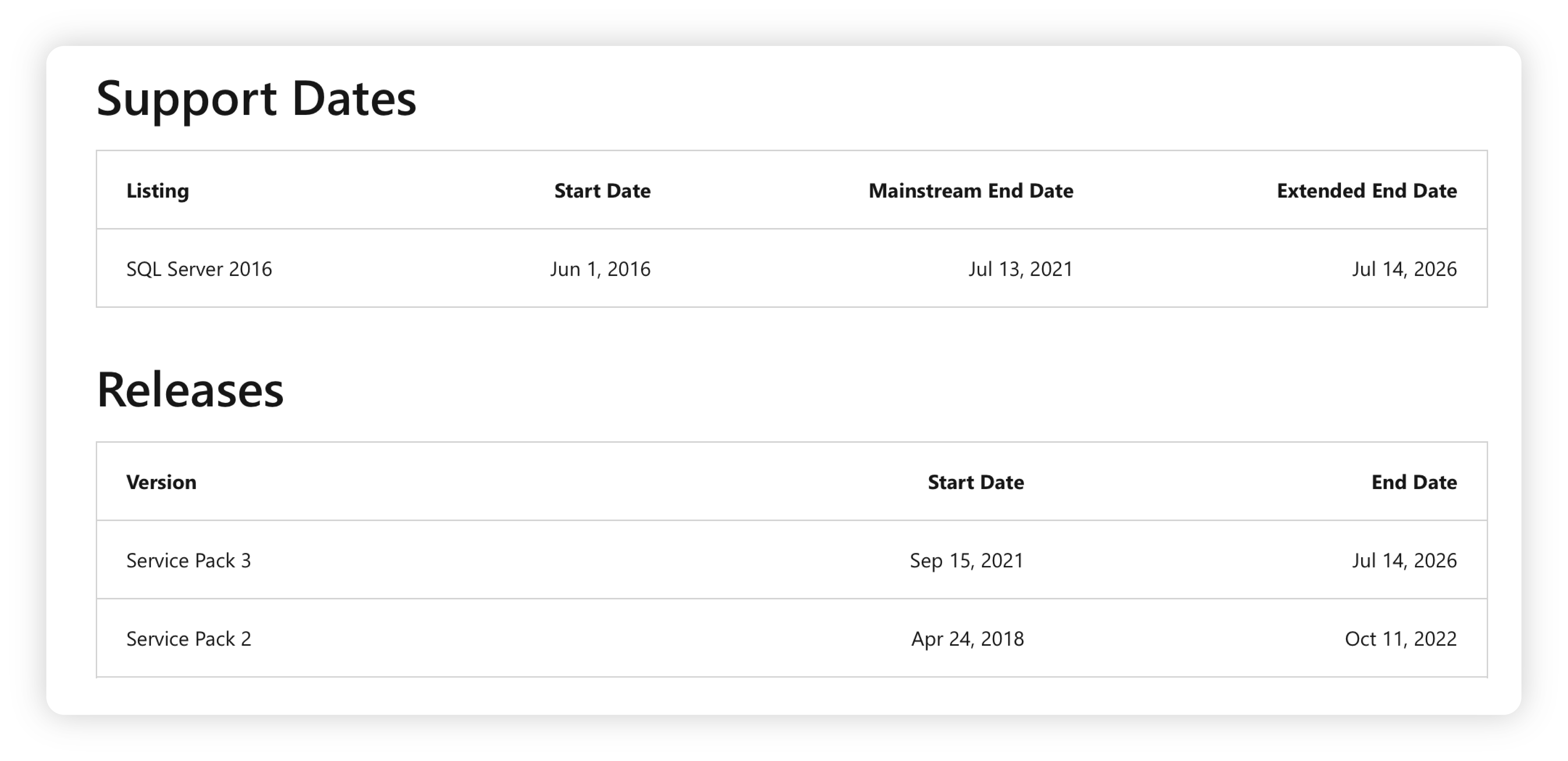 In the case of a company that is on a non-supported version (such as SQL 2012) an update to a higher version would be recommended.
You need to do this for every Microsoft product or service that you use in your business. However, this can be tedious and time-consuming, especially if you have many different products or services with different lifecycles. At BE-terna we have lots of experience and gladly support you on this journey.
How BE-terna can help you migrate to the latest versions?
As you can see, staying secure with Microsoft ERP solutions is not only a matter of compliance, but also a matter of competitive advantage. By migrating to the latest versions of Microsoft ERP solutions, you can benefit from enhanced security, performance, functionality, and innovation.
At BE-terna we have extensive experience in helping businesses migrate their systems to the latest versions of Microsoft products and services. We can help you migrate from older versions such as Dynamics AX or NAV to Dynamics 365 Business Central or Finance and Supply Chain. We can also help you integrate other applications such as Power BI or Office 365 with your ERP solution. Not only that, but we have expertise in various industries such as manufacturing, retail, professional services and more.
We have a team of certified experts who can guide you through the migration process and ensure a smooth transition with minimal downtime and disruption. We also provide ongoing support and maintenance for your systems after the migration.

CONTACT
Do you have questions or want to hear our recommendation regarding your situation?
We are glad to discuss your next steps together.

Contact us today