In today's fast-paced business world, efficiency is a critical factor for business success. Especially in marketing, sales and customer service, it is important to make the best use of employees' time while ensuring high quality customer interactions. This is where GPT-based copilots come into play. With the help of artificial intelligence (AI), they can provide valuable support in these areas.

Microsoft Dynamics 365 - The cloud platform for digital pioneers

Microsoft Dynamics 365 is a leading cloud platform that helps companies optimize their sales and customer service processes. With a wide range of modules and tools, Dynamics 365 offers comprehensive support. From the powerful ERP systems to the customized modules such as Marketing, Sales and Customer Service - the platform covers all areas. One particularly interesting feature is the GPT-based copilots that are integrated into these tools. In this blog post, we'll take a closer look at these innovative copilots and how they help companies take their marketing, sales and customer service processes to the next level.

The benefits of GPT-based copilots for marketing & service

Thanks to AI functionalities in Dynamics 365 customer engagement modules, marketing and service teams can benefit from data analysis, personalization and process automation on a daily basis. The introduction of GPT-based copilots, as virtual assistants based on generative AI technology from OpenAI, relieves employees of repetitive tasks and allows them to focus more on their core work and customer contact. The natural and conversational interaction capabilities of the copilots enable intuitive communication and understanding of requests, instructions and problem discussions. This increases employee efficiency and enables effective collaboration.
Copilot functionalities in Microsoft Dynamics Sales and VIVA Sales

The seamless integration of Copilots with Dynamics 365 CRM systems provides employees with access to existing data and information, as well as the ability to offer tailored support based on the context of the inquiries. In Microsoft Dynamics Sales and VIVA Sales, Copilot functionality will be available to sales representatives in the future to help them manage their time efficiently, including composing emails and creating team meeting summaries in Outlook.
Personalized marketing strategies with Dynamics Customer Insights and Dynamics Marketing Copilots
Dynamics Customer Insights enables marketers to create highly personalized and targeted customer segments through natural dialogs, including suggestions for previously overlooked segments. In Dynamics Marketing, copilots help marketers describe customer segments, create targeted audiences, and receive email campaign content suggestions to increase relevance and effectiveness.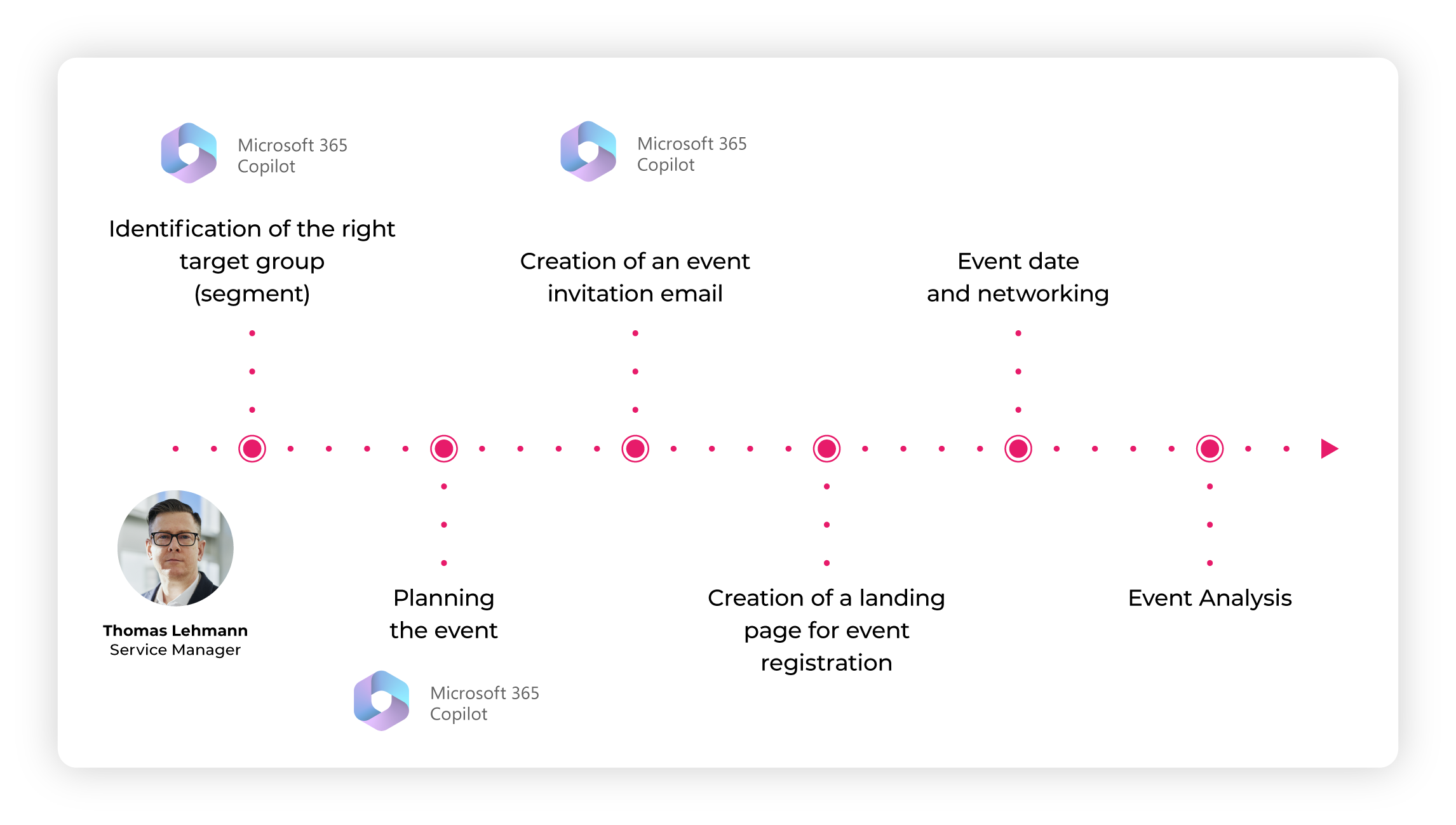 Improving customer service with copilots and intelligent chatbots

Copilots also improve customer service by generating contextual responses to chat requests and emails. Furthermore, they make it easier to create intelligent and conversational chatbots with Power Virtual Agents. They can answer customer queries quickly, provide customized feedback, and help research possible solutions. With access to a knowledge base, copilots can provide comprehensive information to ensure the highest level of customer service.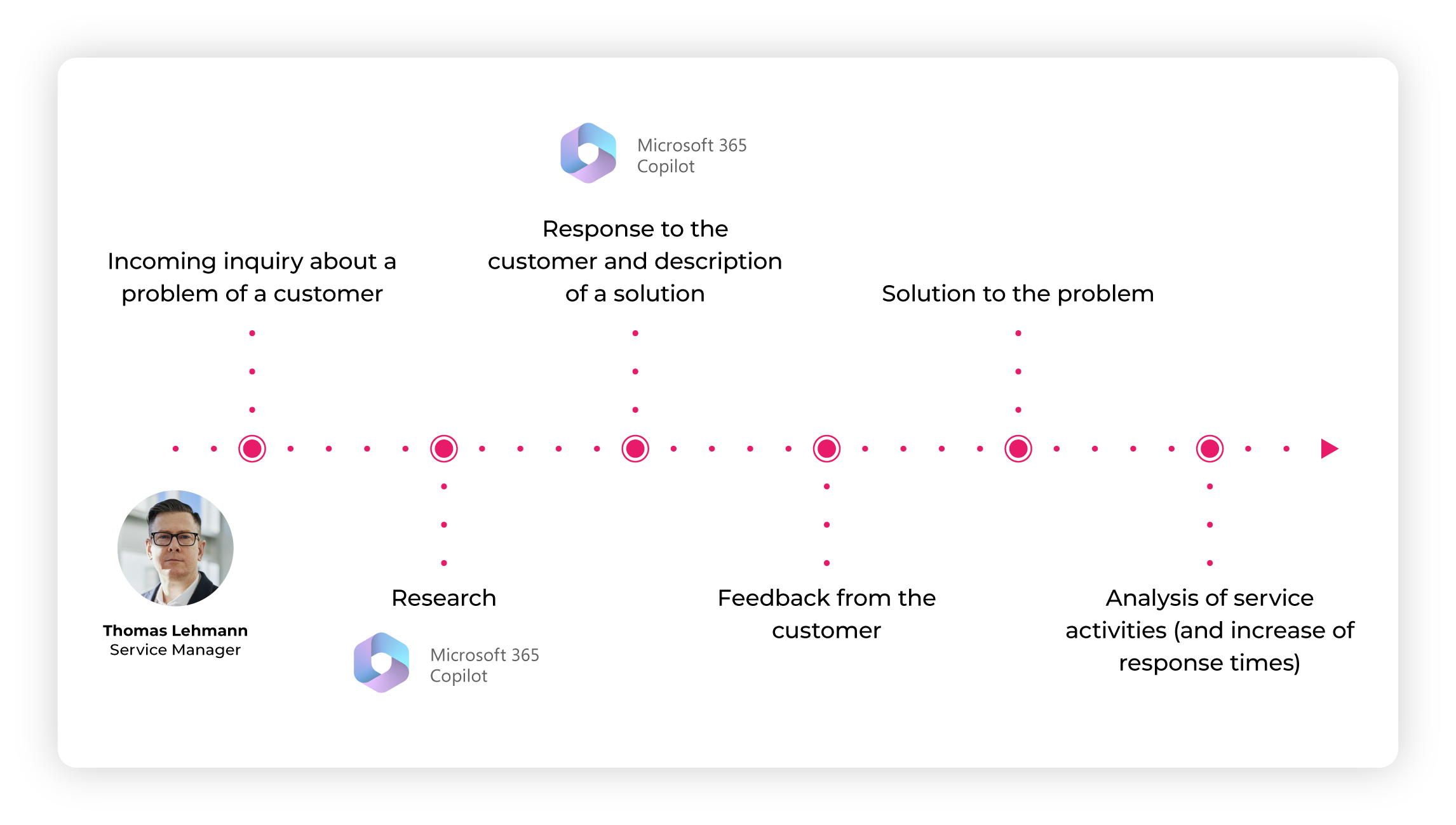 Efficiency and customer value - Increase your productivity
Overall, Microsoft Dynamics 365 provides unified tools and a platform to support their marketing, sales and service processes in a customer-centric way. By interacting with copilots in natural language and accessing a central database, all employees can work more effectively. This leads to an increase in efficiency, optimization of workflows and an increased focus on customers. Copilots are an integral part of Dynamics 365 products and help to further increase employee effectiveness and ensure optimal integration with communication and collaboration channels.
Potential and future outlook
The future of marketing and customer service lies in the intelligent use of technologies such as GPT-based copilots. Companies using these tools can increase efficiency, improve employee support, and ultimately achieve better customer engagement and revenue growth. Copilots assist with routine tasks, generate relevant suggestions and help with decision-making. With Copilots, companies can increase efficiency and improve employee support.
MICROSOFT DYNAMICS 365 CUSTOMER SERVICE
Learn more about Dynamics 365 CRM applications
More Information