Doing a business in the cloud has been an ongoing topic of discussion for insurance companies during the last decade.
While other industries are far more flexible in the adoption of cloud solutions, the insurance industry is still lagging behind, which greatly impacts its performances and revenues.
The financial crisis (2008-2012) encouraged insurance companies to gradually move to digital technologies, but the Covid-19 crisis has further accelerated the investment in the technology and will make insurance cloud solutions imperative in Insurers' everyday business.
Competitive and volatile markets require from insurers to respond quickly and cost-effectively to changing customer needs, therefore more and more insurance companies are ready to take a bold action towards the adoption of insurance cloud solutions.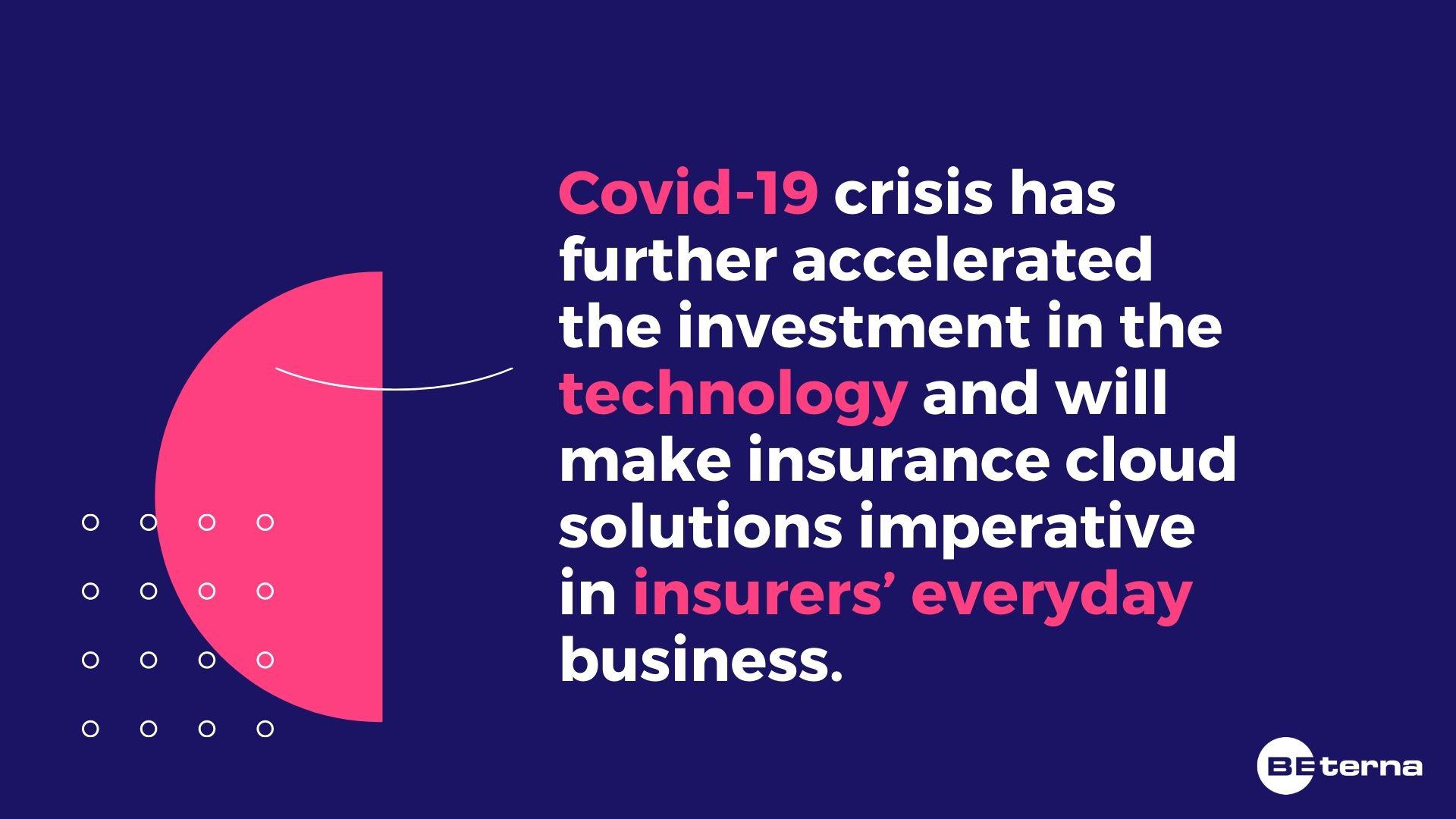 Why is there a need for insurance cloud solutions?
Insurers constantly encounter a plenty of challenges in the dynamic and ever-changing markets of today. Primarily, insurers need to respond to the demanding and expanding customer needs.
Customers expect personalised products, services, and a customer experience supported via their preferred communication channel (social media, web, portal). Consequently, insurers need to increase their "speed to market" and provide competitive products and services.
Furthermore, there is a constant pressure of earning the profit, hence cost reduction is another sticking point for insurers. In addition, globalisation demands from insurers business flexibility and agility in shaping theirs operating models, to conquer new markets and gain new opportunities.
The baseline for tackling such challenges is using cloud infrastructure and solutions.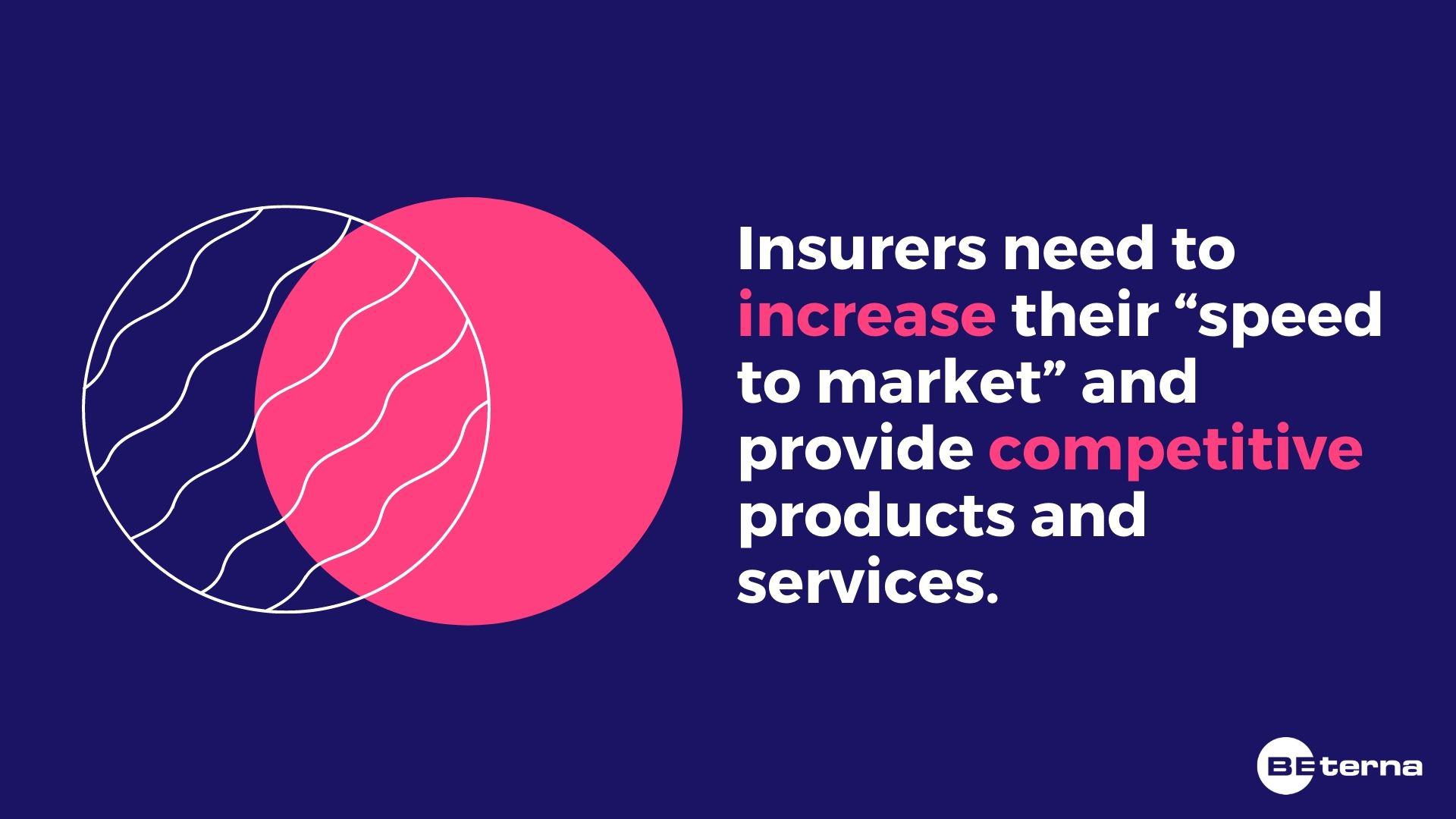 Data security is still a taboo topic
Transitioning from legacy, on-premise systems to cloud solutions is not a simple decision for most of the insurance CIO's, whilst they are often still concerned about data security, due to, primarily, the lack of adequate information. In general, the fear of having their data "in the cloud" is a major obstacle that insurance leaders must overcome to be able to gradually build trust and in return gain the benefits from the cloud solutions.
CIOs are often concerned that their data could be stolen by hackers, mixed up with data from their cloud providers' other customers, or released by mistake.
To overcome these concerns, both cloud solution providers and insurers should work together to build trusted relationships. First and foremost, cloud solution providers should transparently provide thorough explanations of the tools and protective measures they have in place in order to prevent data violation.
Microsoft is quietly becoming a cybersecurity powerhouse, and here is why and how:
Significant security investments: Microsoft invests $1 billion in cloud security every year
Eat your own dog food: Microsoft runs their business on the same multi-tenant cloud services as for customers,inclduding those from highly regulated industries and governments.
Vast intelligence: Microsoft intelligence is built upon a masive amount of security related-signals from the consumer and commercial services that operates on a global scale, which empower Microsoft solutions to protect, detect and respond to threats more effectively.
96 % of the Fortune 500 companies is on the Microsoft Cloud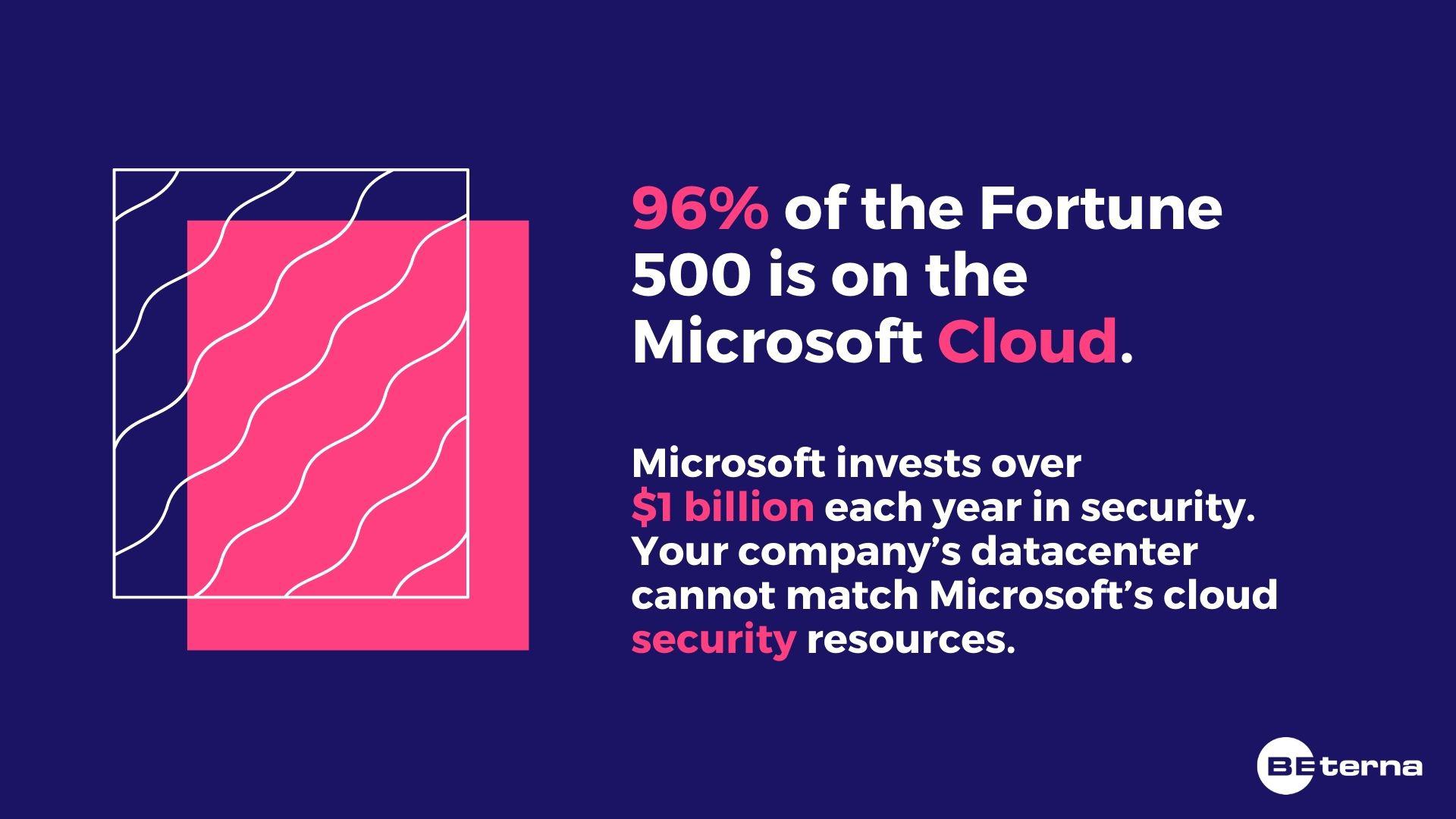 The insurer's mindset is critical for success
Once the new cloud solution is implemented, the way insurers utilise the benefits cloud technology has to offer, makes the difference between 'Leaders' and 'Laggards', and can have a great impact on their revenue generation. According to the research conducted by Accenture in 2019, insurance Leaders which constantly keep pace with the cloud technology can expect outstanding impacts on revenue growth.

Over the eight-year period (from 2015 to 2023), it is estimated that insurance Leaders can expect to have more than doubled their revenue base. On the other hand, during the same period, Laggards are in danger of wasting staggering 37% percent of their potential revenue in 2023.
The same research also states that Leaders are likely to adopt new technologies much faster than Laggards, particularly technologies such as: Big data analytics, Cloud SaaSs, AI and machine learning, Internet of Things (IOT).
Considering the results of the aforementioned research, it is obvious that transitioning to the cloud is just a small baby step on a long-term journey of technological innovations.
Leaders in the insurance industry are more open-minded and move more quickly to embrace potential cloud benefits. They are ready to invest in new technologies, and to create unique technological ecosystems, which will allow them to streamline processes and operate smoothly.
In contrast, Laggards struggle to keep pace with dynamic markets, because they have too many disparate systems, and still nurture legacy IT structures, which greatly affects their business efficiency and revenues.
Therefore, being in the cloud is not an easy venture for Insurers, it is a long journey that requires constant efforts in providing resources and dedicated experts responsible for defining and implementing the strategy for successful business in the cloud environment.
The real benefits of the cloud
If cloud capabilities are utilised with the mindset of a Leader, substitution of legacy systems with an intelligent and cost-effective cloud solutions results in the company being able to overcome business challenges, as well as to gain multiple benefits.
1. Cost reduction
Thanks to on-demand and "pay-per-use" consumption, insurers do not have to buy any more expensive servers which require to be managed and maintained by specialised personnel. Cloud-based solutions are mostly less expensive than server systems and can also reduce costs for licensing, hardware and the maintenance of complex legacy systems.
In addition, cloud solutions provide greater flexibility in terms of storage of resources, so companies are able to scale the necessary resources according to their busines needs. Insurers are relieved of the responsibility of infrastructure costs, while they still own and have control of their data without worrying about how big the database is.
2. Optimising processes
Cloud solutions and digital technologies specifically tailored for insurance can help insurers achieve greater agility and mobility. Employees are able to perform their daily business tasks on mobile devices from anywhere, this giving them time to focus on client needs.
By leveraging the capabilities of cloud solutions, insurers can collect and analyse large amounts of customer data, and focus on comprehensive Client 360°, to provide the best possible user experience, on the go.
Furthermore, clients are empowered with new communication channels, which allow them to quickly access their insurer via their preferred channel. Social media channels, customer self-services portals, as well as chat-bots provide automation of multiple processes such us: reporting the FNOL, policy renewal, lead generation.
3. Business scalability and flexibility
With cloud transitioning, insurance companies are enabled with the wide range of different cloud solutions and apps dedicated for optimising different processes. What is more, solutions based on Microsoft platform can be simply integrated (native integration), without additional integration costs. In addition, insurers can expand and operate globally with ease, while cloud solutions will help them to standardise their business processes and utilise unique databases across different partner companies and countries.
4. Increased customer satisfaction
The primary goal of cloud solutions is to enable stronger customer relationships, to retain existing customers and drive new sales opportunities.
Thanks to the pervasive analytics and business agility, insurers can deliver personalised products and services much faster than before and stay competitive. Considering demanding customer needs, insurers can quickly develop business models which will result in satisfied customers and improved opportunity conversion rates.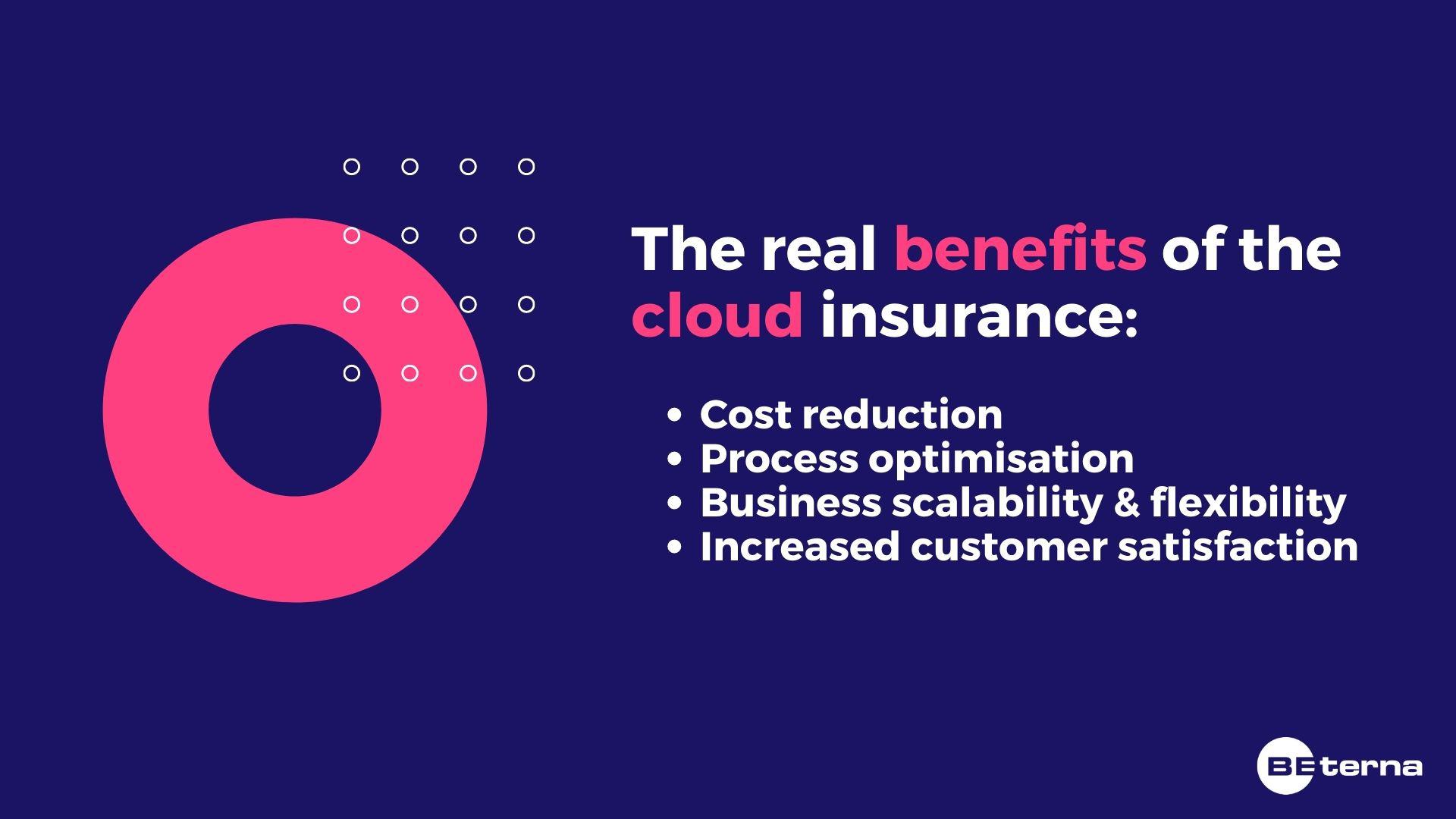 A wake-up call that creates an opportunity
Cloud solutions have given the insurers the ability to take advantage of cloud capabilities and resources, which can be accessed via any individual computer or mobile device. In addition, cloud solutions encouraged insurers to keep pace with market changes by delivering personalised products and services in a timely manner, expanding the business networks, adapting the business processes, whilst also reducing infrastructure costs and generating revenues.
However, cloud solution adoption is not always a simple decision for insurers, but those who overcome security concerns, through adequate and detailed information and education, can leverage multiple benefits which will allow them to be well-positioned among stiff competition.
Additional business opportunities can also be discovered, which enable insurers to compete in a highly dynamic markets, where keeping pace with technology innovations is a must. Furthermore, utilisation of cloud solutions is an ongoing journey, where constant innovation and agility are required.
The proactive approach in implementing cloud solutions and technologies establishes a dividing line and differentiates the Leaders from the Laggards.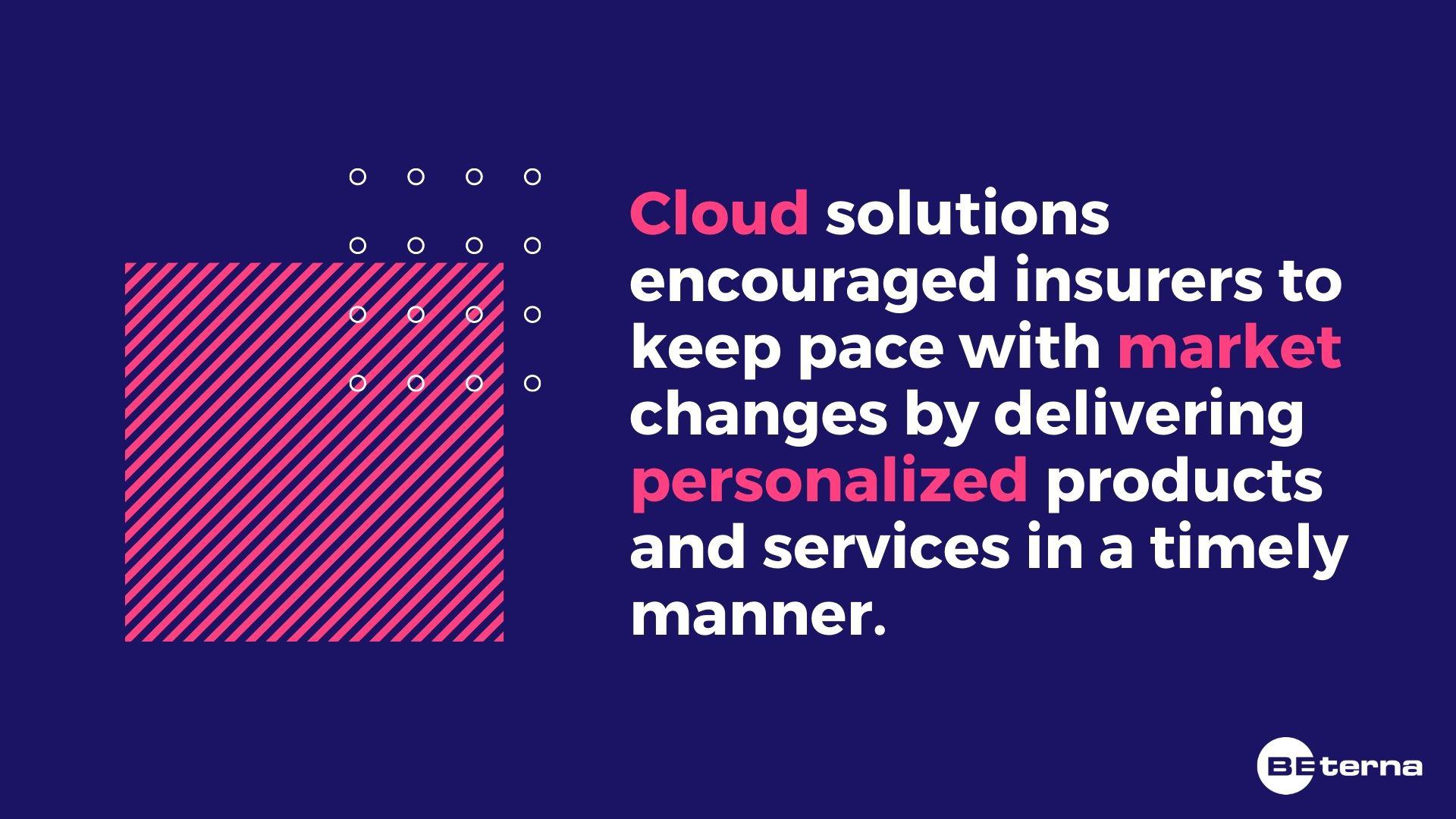 If you want to be a Leader in the insurance industry, who strives to BE customer-centric, compliant with GDPR rules, proactive in delivering personalised customer products and services, and engaged with customers via different channels, BE-terna Insurance CRM is the right solution for you. You can find us also at AppSource.


Are insurance companies ready for the new normal of today and tomorrow?
Read more