With all 2 deployment options for Business Central (on-premises and cloud), this modern business management solution is now on its way to take over the global SMB market and become the fastest growing ERP for SMBs worldwide.
What is Microsoft Dynamics 365 Business Central?
Microsoft Dynamics 365 Business Central is a modern business management solution connecting your people and your processes like never before. It makes managing your financials, sales, services, and your operations easier and faster. Add the Office 365 productivity tools and Microsoft Teams and your business and people are fully empowered to tackle the future.
Business Central at a glance

Business Central – Access your most important data from within Outlook, while on the go
Business Central SaaS – A modern Microsoft solution in Cloud for SMBs
Business Central SaaS is suitable for small and medium size businesses that need their cloud ERP up and running in a very short time and rely on standardized processes with less complexity when compared with the companies that will opt for on-premises Business Central.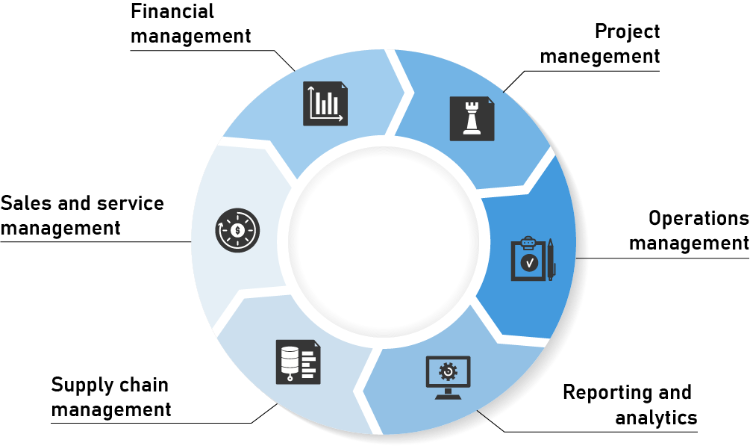 Business Central – modern solution for modern business covering all key processes – choose your perfect fit
When Business Central SaaS is a perfect choice:
If you have outgrown your existing ERP or are just starting the search for your first ERP (start-ups)
You are ready to move to the cloud fully
You will use the out-of-the-box functionalities
You do not want to settle for the average market offering
You do not have internal IT and do not want to make an initial investment for the implementation
Go mobile-first and cloud-first with the world-class Microsoft Dynamics 365 platform at an affordable price
You know what you get with Microsoft technology – enterprise-level security, guaranteed data back-ups, guaranteed and automatic updates without extra charges, and the ability to purchase add-ons on the Microsoft AppSource marketplace.
With included automatic updates you are always using the latest version of the software, without any worries, manual upgrades, or delays.
Your work is available anywhere and on any device. You can navigate through your business data, use features such as Office 365, view up-to-date charts and KPIs, email sales quotes and invoices, and stay in control of your projects or inventory – all this while in your office or on the go!
And yes, the pricing model is adjusted as well – the pay-as-you-go pricing model results in predictable monthly charges where you can easily remove users if you work in a seasonal business or add users as you grow.
Get in touch!
Get in touch with us and we will be more than happy to show you what you can get, how fast and how much it will cost you.
What is Business Central?
Business Central is a business management solution suitable for SMB companies that delivers all the great benefits of a modern ERP system:
Bring your system and processes together – your finance, operations, sales and marketing are all integrated in one system with additional integration possibilities (payroll, banking apps, custom APIs).
Streamline quote to cash where you can do everything within Office 365 – set up customers and vendors, create quotes, process orders, and submit invoices without ever leaving Outlook.
Automate and secure your processes with easy-to-create workflows, audit trails and enterprise-level security.
Gain an end-to-end view of your entire business and use built-in reporting features adapted to specific user roles.
Sell smarter and improve customer service.
Increase productivity – predict the materials you need to replenish and ensure your inventory levels are as they should be.
See more: Microsoft Dynamics 365 Business Central