The modern business is not bound to offices and office desks. Work from home, through remote access and alike, is becoming increasingly popular. Accordingly, modern business also implies work on the move and access to information through any device and from any location.

The offer and demand for mobile applications is growing week by week, both for apps for monitoring the stock exchange or checking e-mails and for business apps used to manage the entire business operation of the company. The purpose of business apps is to allow users to access all the functions they have at their disposal in standard business applications on their personal computers. To have a business app intended to be used solely on mobile devices is often not a practical solution and there is a need for mobile apps that speed up, simplify and optimize the activities carried out on daily basis.
To enable such to-go business operations, Microsoft has invested resources to create a platform that would allow users to develop mobile apps designed for specific business processes and allow the integration of multiple data sources and apps into one application containing all the information in one place.
This platform is called a Power Platform and it integrates 3 business applications:

Microsoft Power Apps,

Microsoft Flow

Microsoft Power BI.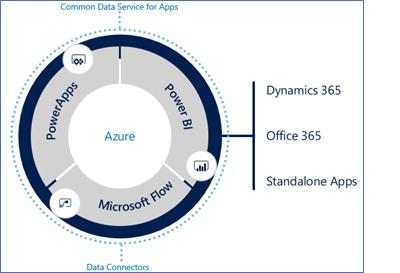 Microsoft Power Platform
PowerApps, Flow and Power BI are based on a shared cloud platform - Azure, which enables simple interaction and mutual integration.
To support integration with other business applications, there are around one hundred connectors with various services, such as LinkedIn, Dropbox, SAP, Office package and also the Dynamics portfolio of products. PowerApps, Flow and Power BI can be used with the Common Data Service Model that integrates data from various business apps, Excel tables, SharePoint and similar.
1. Microsoft Power Apps
This platform allows the simple creation of mobile/tablet apps that are available on devices out-of-the-box. Microsoft PowerApps is a set of precreated applications, services and connectors that enable the creation of simple business applications in only a few minutes.
The idea behind PowerApps is to use a couple of functions and several clicks to allow users to create mobile applications with virtually no experience in programming.
PowerApps allows users to create 2 types of applications. The first is a Canvas application, which is a standard mobile/tablet application that can be simply shared among colleagues within the organization. The second type of application is a Model-driven application that can be integrated with preexisting solutions such as Dynamics 365 for Sales or Dynamics 365 for Talent.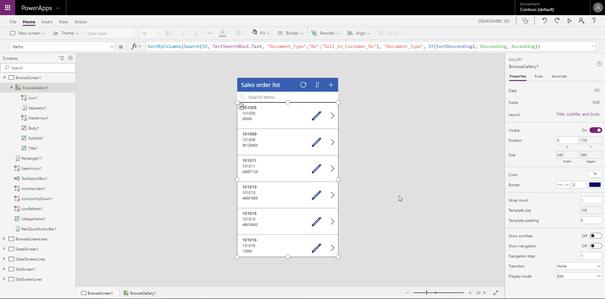 With the development of the PowerApps services for the development of applications came the notion of Citizen Developers creating business applications for personal use and/or for other users, by using simple tools.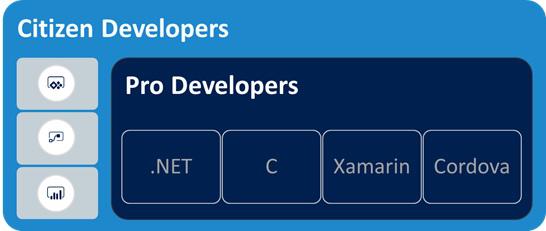 2. Microsoft Flow
Microsoft Flow is a set of services that enable the creation of automated workflows and the integration of various business applications and services; it is also available to all users of the Office 365 licence. In the technical sense, Microsoft Flow is a set of triggers and actions that are executed when the defined trigger is executed.
Microsoft Flow is built on the Azure platform and thus enables simple connections with various business applications in the cloud – either Azure or any other cloud solution. Using the templates, in only a few clicks you can easily create a completely automated solution.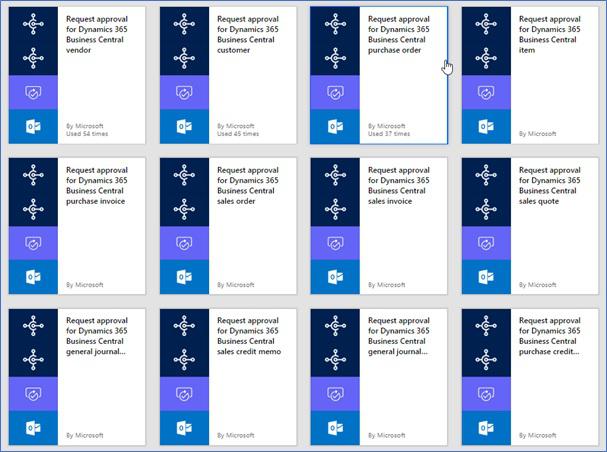 Microsoft Flow supports 4 types of workflows. The first is the automated workflow initiated when a specific business event takes place. The second type of workflow is executed by manually clicking on the action.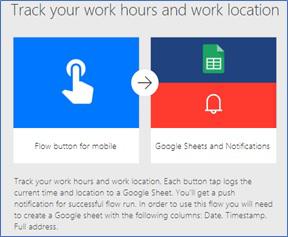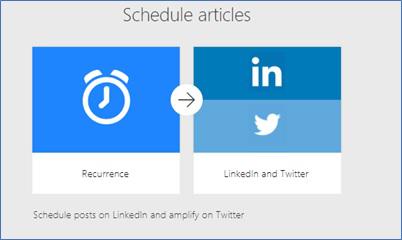 The third type of workflow is the flow that would be executed following a specific period (daily, weekly), on a specific date or at a predefined time. The fourth type of workflow is the workflow that ensures a specific business event is executed under the specified conditions. Examples of such workflows include approvals, form and box completeness control.
Microsoft Flow is also available as a mobile app that can be used by users to control and monitor the execution of workflows, to manage them or simply to create workflows based on templates.
3. Microsoft Power BI
To prevent data from remaining trapped in the business apps and workflows, the Power BI tool allows the creation of personalized reports based on real-time data in a few simple clicks.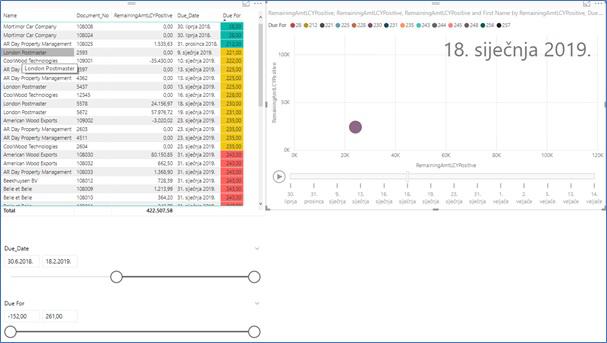 Review of supplier maturity
Apart from the possibility of creating independent Power BI applications (reports), they can also be integrated into the ERP solution or PowerApps mobile/tablet application.
Using the available connectors, it is possible to combine and create reports based on data from various sources.
Microsoft Power BI
Power BI consists of 3 main apps. The Power BI desktop application is used for developing and designing Power BI reports, Power BI services that allow the sharing of the reports within the organization, access control and the creation of report representations. The third component of Power BI is the mobile app used for displaying Power BI reports on mobile devices.

4. Business applications
To prevent users from wasting time shifting between applications (e.g. outlook, sharepoint) and business management applications, the integration of Dynamics 365 Business Central and Dynamics NAV 2018 with Outlook is also possible. Thus, the entire process, from the drafting of bids to invoicing, can be done in Outlook.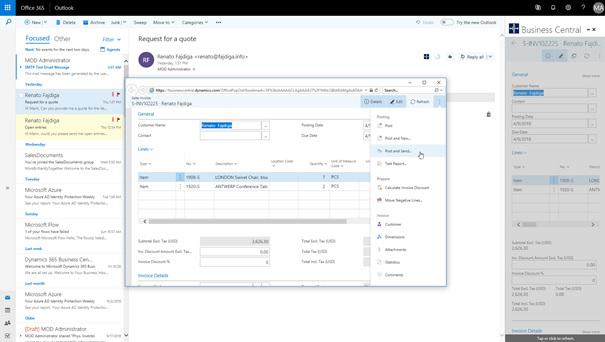 Power BI Intergration with Outlook
Apart from the sales process, other Dynamics NAV or Business Central functions are also supported, such as printing reports, data processing, sending documents to the mail, etc. Integration is also available through the Outlook application on PC, but also through an Outlook web application using internet browsers.
A simpler way to optimize business processes
The tools available with Office 365 (Microsoft Flow and Microsoft Power Apps) allow the company to focus its business on tools that speed up and optimize its processes (for example Outlook). With the arrival of PowerApps, Microsoft Flow and Power BI integrations of the Dynamics solutions and the Office package for productivity, it got a completely new dimension.
In a matter of minutes, it is possible to create a user-oriented mobile application and reports that answer the user's questions without the need to write the code or to possess an advanced knowledge of programming.