When it comes to software, licensing is truly one of the most complex things involved. In this blog, we would like to show you everything you need to know about licensing the Microsoft Dynamics 365 Business Central solution in the easiest possible way.
Dynamics 365 Business Central
meets the business needs of all small and medium-sized organisations. It enables companies to connect their finance, sales, service, and operations within a single easy-to-use cloud application. Business Central is a single base that
users can access with their user licenses on any device and from anywhere
.
The basic definition of a Business Central user implies a
'named user'
, in contrast to the old Microsoft ERP solution Navision that had 'simultaneous access'. 'Named user' means that each Business Central user must have an assigned license.
Business Central license types
Business Central licenses are classified as follows:

Full user license
Limited user license

Dynamics 365 Business Central license types
Full user license
Full user license is a license that provides full rights to read and write data in the system. These are the users whose business tasks require the use of the full functionalities of the Business Central business application. Business Central Full user is available in two types of licenses:
The Essentials license- provides access to the core functional areas such as finance, sales, procurement, inventory, and project management, along with several other services that Business Central offers. The Essentials license users have full system functionality at their disposal, such as creation, reading, updating, and deleting data in all available business areas.
The Premium license- on top of all Essentials rights, the Premium license adds production and services functionalities.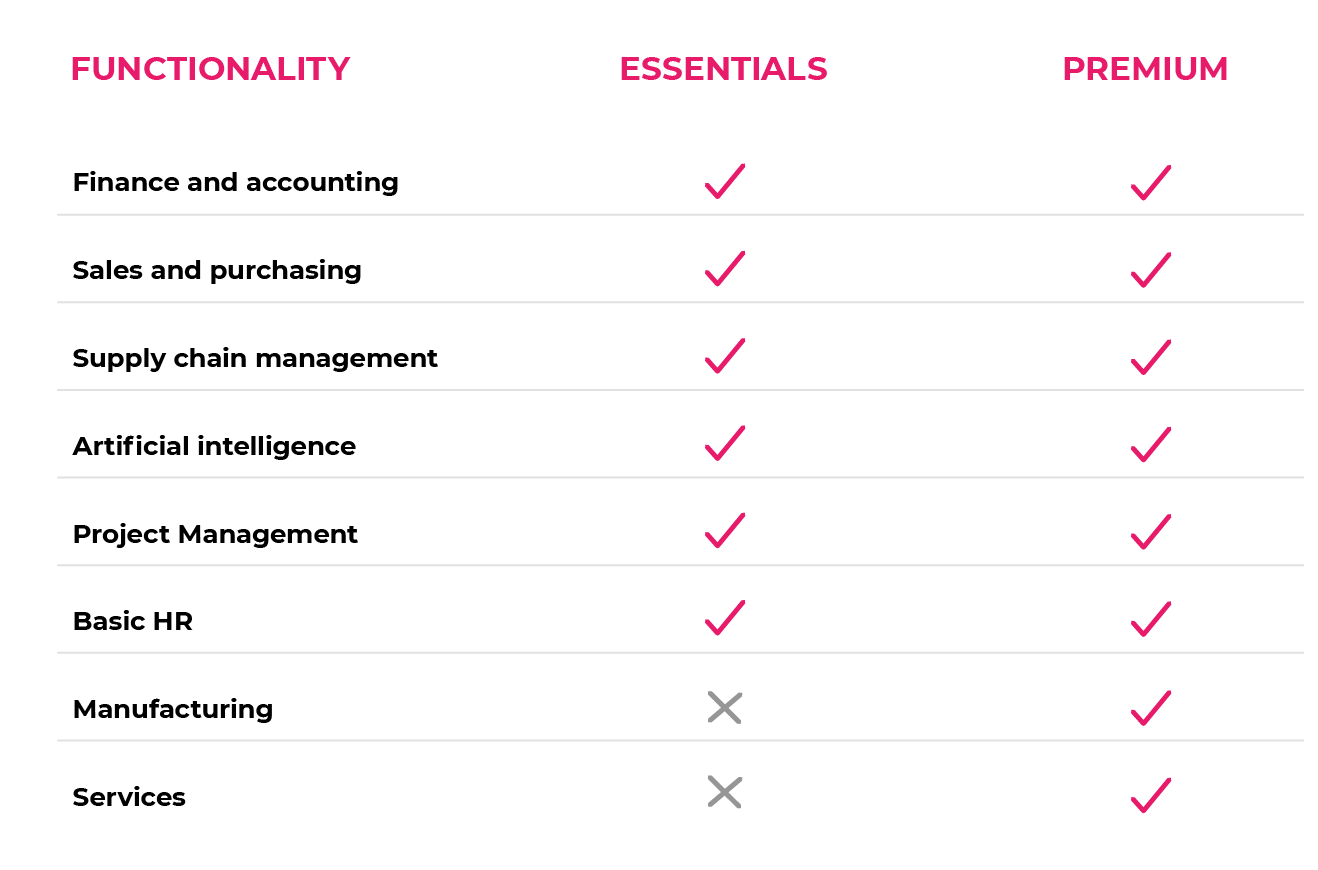 The Essentials vs Premium license
Our Business Central Express business solution is tailored for companies within Professional Services that generally do not need to manage production processes, so the Business Central Express package is only available with the Essentials license.

"Full user" licenses cannot be combined. If the company uses production or service functionalities, all users must have a Premium license.
Limited user license
Limited user licenses normally imply additional users in the company. In most cases, it can be a larger part of the company users, which would mean a more financially favourable configuration of the company's licenses. Limited users in Business Central have full rights to read data and limited rights to write in the system. Here we differentiate two types of limited user licenses:
Team member – has full reading rights, but the rights to record data in the system are limited to updating existing data (e.g. an existing customer, supplier, or item data record, without adding new data), approving tasks, creating offers/proforma invoices and updating existing customer/item/supplier data.

Device user – intended for use on a specific device where several people can be logged on during the day. This can be the management of a point of sale or warehouse device for tracking inventory, time sheets, sales, or services. In the case of a device user license, it is not possible to monitor a specific user's individual usage.
It is important to highlight that Business Central requires at least one of the company users to have a full user license to be able to obtain other 'Team member' licenses.
Special benefit for users from external accounting services
External users are third-party users and do not require licenses to access Microsoft Dynamics 365 Business Central like company employees. These are, for example, IT support providers that serve several organisations or external accounting services. These users can be covered by 3 free 'External user' licenses that come as part of the company's Business Central license.
Business Central pricing overview
Now that we have covered the differences between Business Central licenses, it's time to have a look at license pricing for European countries.
Every type of Business Central license is billed monthly, but there is a difference between the two subscription models – monthly and yearly. The monthly subscription model gives you the flexibility to edit the number and type of licenses during the year, while the yearly subscription model does not allow this but offers more affordable prices.

For the latest prices, please check the Microsoft page or contact us for more details.
Business Central packaging overview

Every Business Central customer can have one or more tenants depending on the company's business needs. Each tenant has its own set of licenses and includes:

1 Production Environment/tenant
Database capacity: 80GB/tenant
   Business Central Essentials: additional 2GB/user
   Business Central Premium: additional 3GB/user
3 Sandbox Environments
3 External Accountant licenses
Unlimited companies
Microsoft Power Platform and Business Central
Microsoft offers users additional functionalities through Power Platform – a high productivity and product integration platform. With this platform, users are provided with the opportunity to do advanced data analysis, build new solutions, automate processes, and use artificial intelligence in a fairly simple way.
A monthly subscription to Dynamics 365 Business Central license includes:
Power BI free reports – activate business intelligence over your business data
Power Apps - extend and customise applications
Power Automate - automate business processes and workflows
Cortana Intelligence – predictions based on your historical data.

Power BI free vs Power BI Pro
Business Central Express licensing

Business Central Express
is a standard Microsoft Dynamics 365 Business Central ERP solution specifically tailored for small organisations within the Professional Services industry. It has a predefined setup and data that covers common business processes for Professional Services companies and is developed to enable express business
solution implementation in just two weeks
.
Business Central Express packages cover all the company's needs for licenses according to the selected functionality package, through a monthly license rental per system user.