As a former CRM sales super user at a medium-sized company, I am well acquainted with everyday life in a sales department. The word "CRM" was always followed by a sigh.
The Management would complain that Leads did not qualify in time or that opportunities were not registered.

Salespeople have a hard time prioritizing what to do – they "can't see the wood for the trees" - and often complain about having to do too much administrative work.
The great advantage of Dynamics 365 is that the software can be directly integrated with apps that most businesses already use, such as Teams, Excel, SharePoint, OneNote and Outlook.

Let me try to make your sales day easier by sharing my 8 favourites, both from Dynamics 365 Sales CRM as well as the Microsoft platform.
1. Collaborate
When starting off with a new project, a new Opportunity, it is not always crystal clear who in your organisation will form the dream team to win this Opportunity - especially if you are working remotely or if the organisation is spread over different locations, and not to mention if you are newly employed!
Successful Sales is a team sport. Salespeople need to access information from the expertise of other departments, for example Product development, marketing, supply chain, the Back-office team or to be able to collaborate with account teams around the globe.
By integrating Microsoft Teams into Dynamics 365 Sales, which is an out-of-the-box feature, it will not only save you time, as you do not have to switch between apps, but will also accelerate workflow efficiency by bringing together all stakeholders in the context of the deal they are pursuing.

This works across any record in Dynamics; leads, opportunity, accounts, contacts and so forth.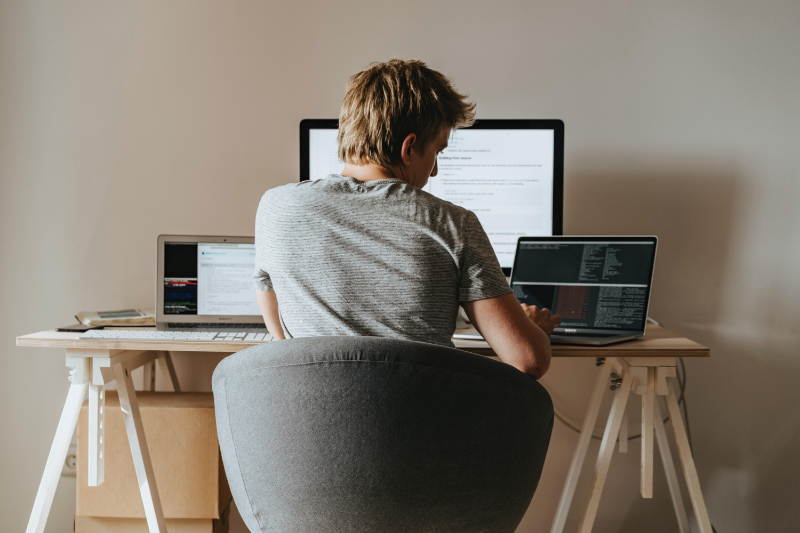 2. Stay ahead

Who doesn´t like LinkedIn?
When integrating and activating
LinkedIn Sales Navigator to Dynamics 365 CRM
, you can add Contacts directly to CRM, and Save a Lead at the same time, from LinkedIn (duplicate check included).
Search for existing accounts in your CRM database from within LinkedIn Sales Navigator. Once you´ve done that you can also select an existing opportunity related to the account that you have picked, and you can add a stakeholder role to this contact.
From the leads, opportunities, account- and contact views in Dynamics 365 CRM, you can access and see the LinkedIn profiles for a contact as well as the company profile on LinkedIn.
This enables the possibility of sending emails or messages directly to a contact without having to navigate back to Sales Navigator.

LinkedIn InMail allows you to send a message to your contact through LinkedIn and it creates an activity in the timeline in Dynamics at the same time!
Or why not send an introduction request to some of your connections in order to broaden your network.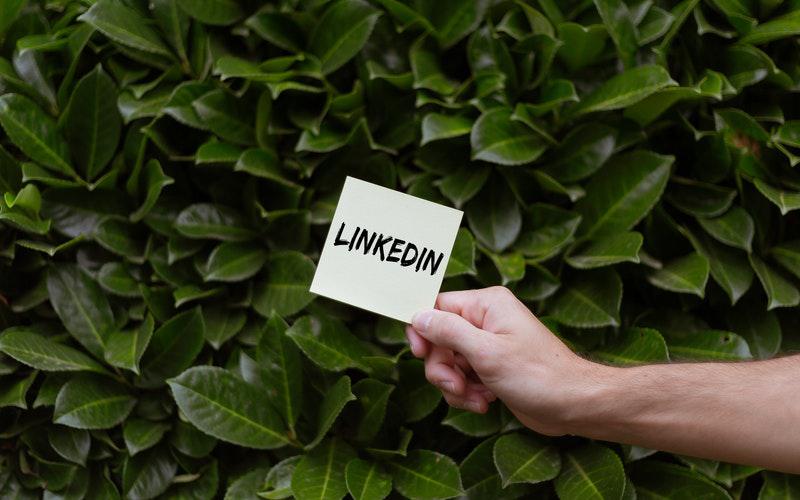 3. Take control

We already know that Excel and Dynamics work well together as both are Microsoft tools, and there are also pre-built dashboard options in Dynamics, as well as integration to Power BI.
However, I would like to focus on the new Deal Manager in Dynamics 365, which provides a summary and a visualisation of your open Opportunities. The bigger the circle, the more the estimated revenue is worth, the green circles are the ones most likely to close and red the ones are less likely. This is using a Sales Insights AI feature called Predictive Opportunity Scoring based on what has been won or lost in the past. It gives a nice overview and helps sales to prioritise their list of opportunities. And of course, there are filtering and editing options, so that you do not have to switch views.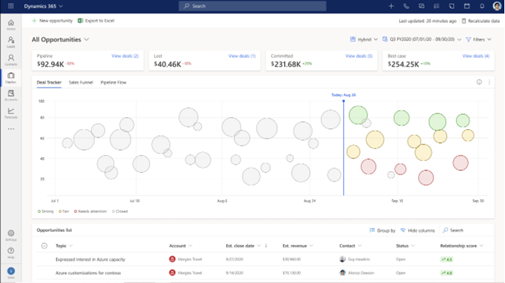 4. Be flexible
If you are a salesperson who´s not already using the Dynamics 365 Sales App, I suggest that you download it now.

Get easy access to your leads, opportunities, accounts and contacts, meetings etc. or search for other records. Take notes by typing, or use the integrated speech-to-text feature if you're on the move! Maybe you did some quick sketching with a pen and paper together with a customer – simply take a picture of that drawing and add it directly to the Note.

The mobile app provides a rich offline experience that lets you work with commands such as create, read, update, and delete—along with some special commands—so you always stay productive. After you're back online, changes you've made are synchronised and updated in the system.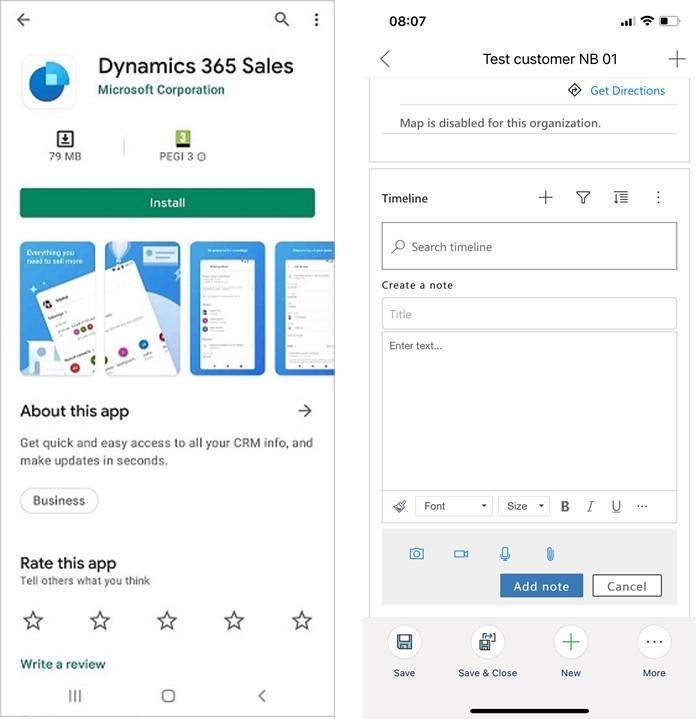 5. Easy accessibility

Continuing the above topic on flexibility and being able to work wherever you are located - yes, you can use Teams in Dynamics 365 to chat and collaborate with colleagues. Furthermore, to make it as convenient as possible for you as a user, you can also work the other way around – by accessing Dynamics 365 Sales from within Teams!
It expands the possibilities for cooperation even further when you are able to ensure that the whole team has all the customer and project data they need, in one place.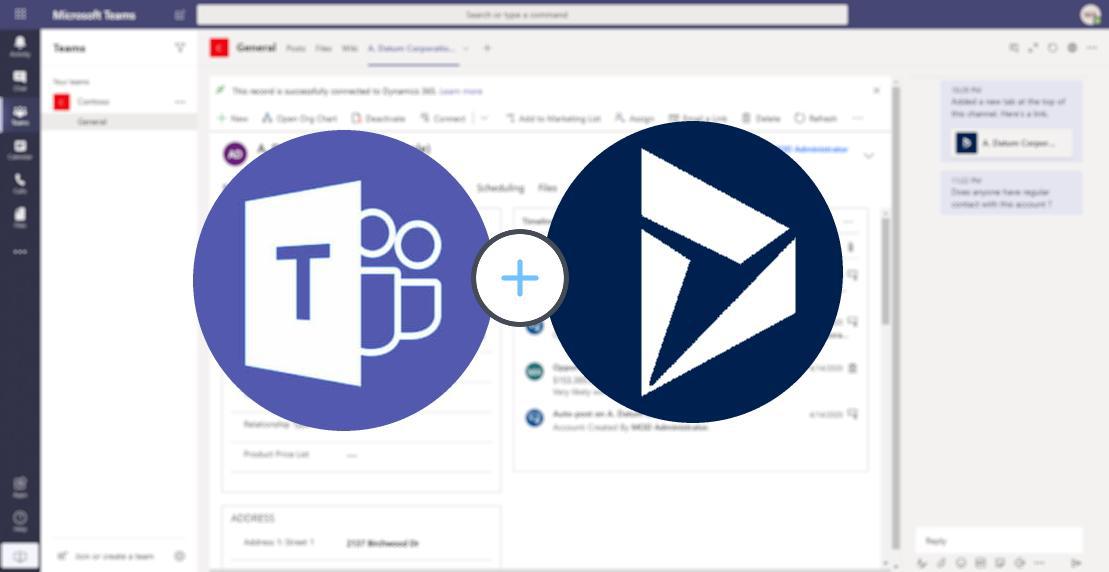 6. Save time
With the out-of-the-box Sales accelerator, you can work with an intelligent and organised work list. It helps to prioritise your daily work and gathers all information in one place.
By adding rules, you can auto assign Leads from, for example a specific lead source, to another user. Enabling more team members to help out is one way of speeding up the qualifying process.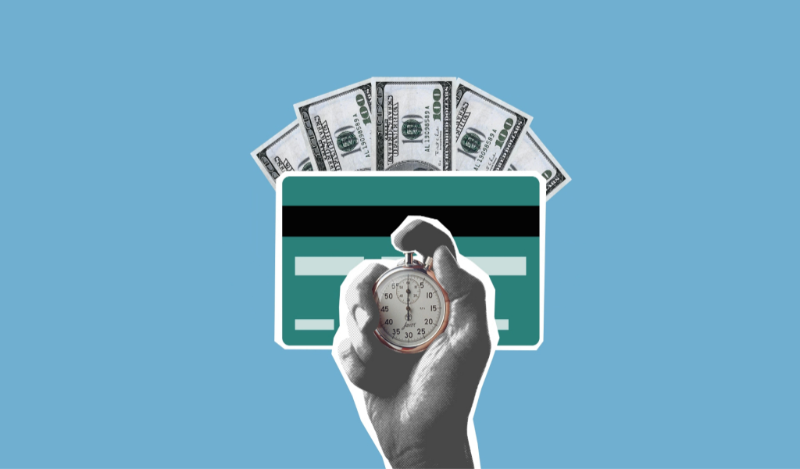 7. Be effective
As Covid restrictions are eased, many of us are looking forward to meeting in person again! There is already a standard map available in Dynamics 365 CRM, but if you are planning a customer visit or maybe a road show of some kind, it could be worth integrating Maplytics!
With the Appointment Planner in Maplytics, you can get an overview of other Accounts located within a specified distance of the Customer you are visiting, get route suggestion, or see which areas that you may need to expand in with Heat maps.
View your current sales territory map with Territory Management or create a new territory by country, state(region), postcode – or draw it freely!
The possibilities are many with this tool.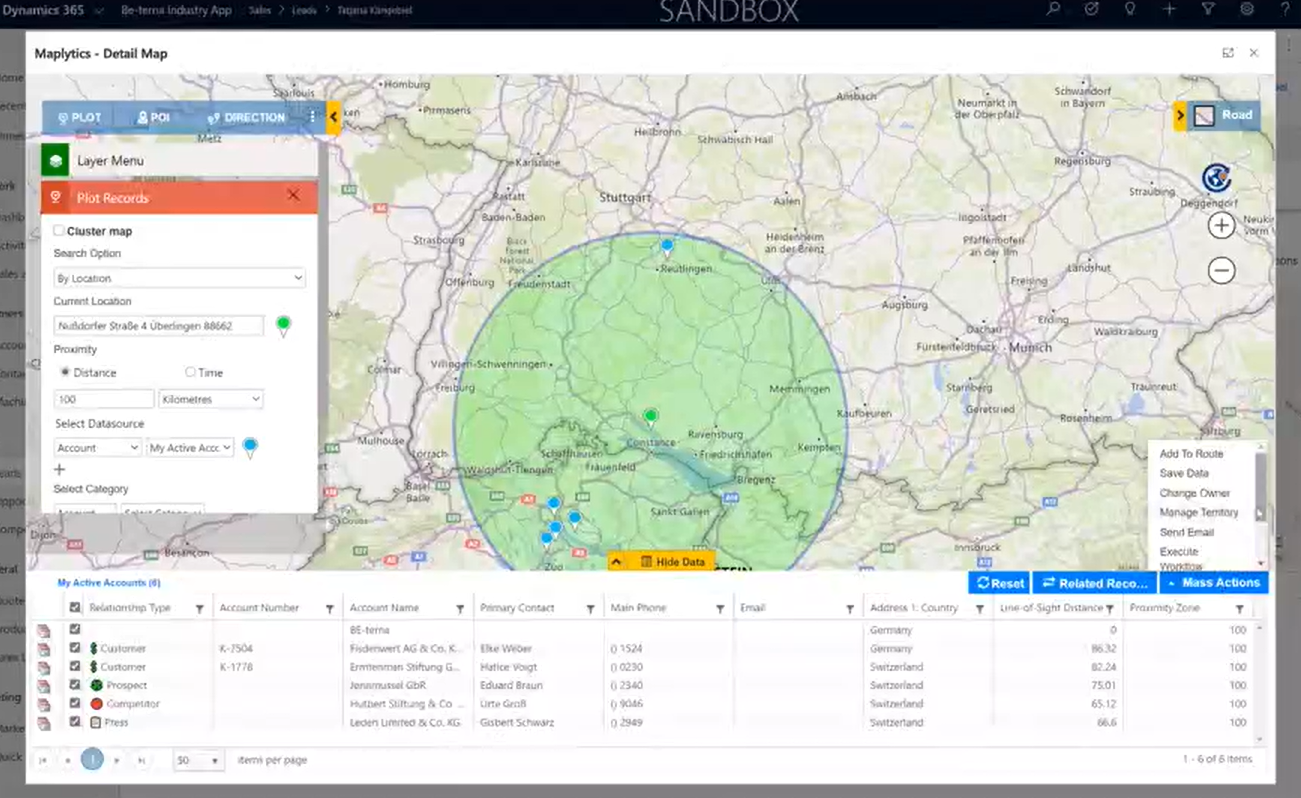 8. Streamline

Speeding up and streamlining approval processes can be crucial in a sales department! Whether you need a client discount, an expense report or a vacation request approved - manage it all with Approvals in Teams!

When a frontline worker needs something approved and recorded with more formal attestation, for example an NDA, they can easily create an electronic signature approval using Adobe Sign, DocuSign, and other third-party providers natively within the Approval app.
The Approvals app provides a simple way of bringing auditing, compliance, accountability, and workflows to both structured and unstructured Approvals in Teams.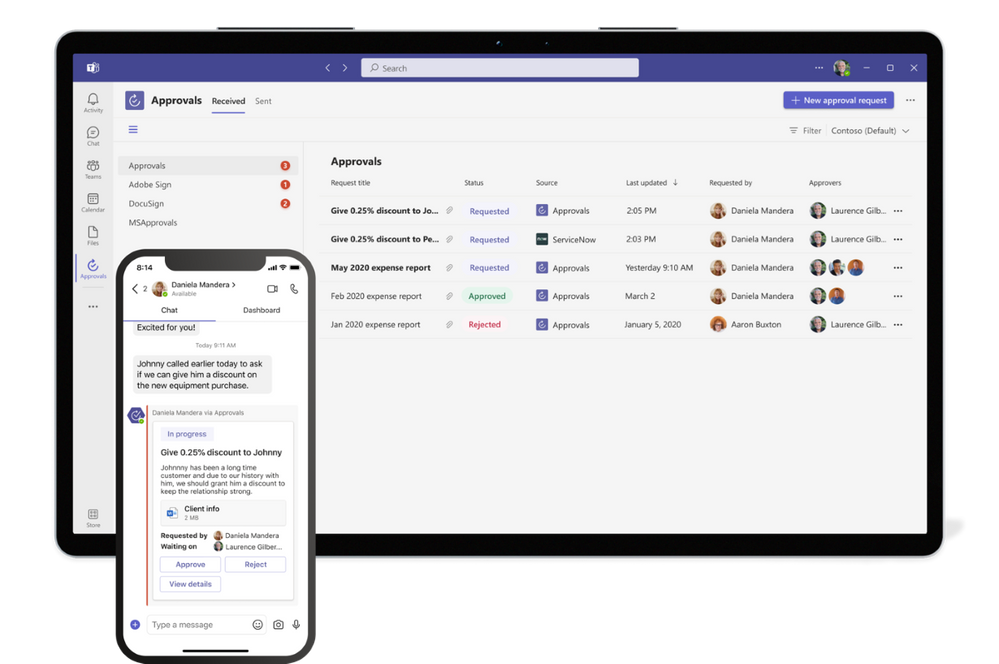 To wrap up
The market has quickly evolved to offer a multitude of CRM systems, some of which offer more functionalities and perks than others.
Having a common data platform, like Microsoft Dataverse, which is designed to work with any type of data, not only speeds up processes, but also offers more in-depth insights that are specifically tailored to your business.
With that said - having the tools doesn't mean you have a complete solution. Another key aspect is to have clearly defined and unified working processes and routines within your organisation.
If this text has raised any questions or you would like more information, please do not hesitate to contact us!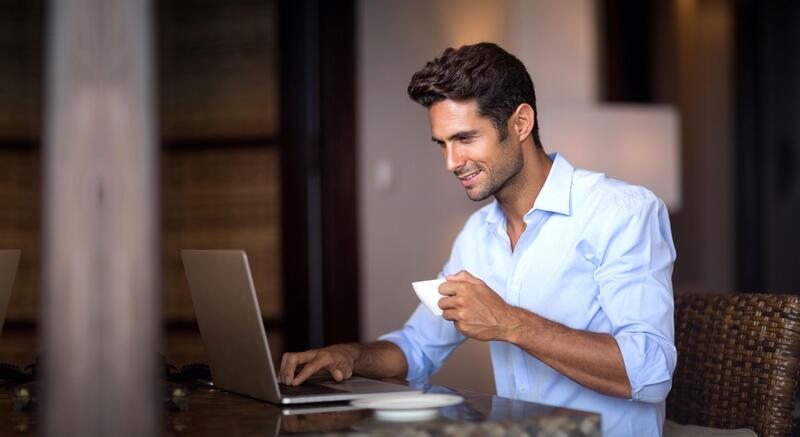 DYNAMICS 365 SALES
Spoznajte skrivnost uspešne prodaje z Dynamics 365 Sales
Več