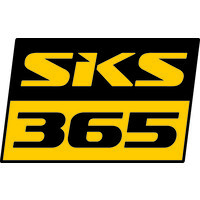 In 2020, the size of the global sports betting market was estimated to 203 billion U.S. dollars. With more and more countries legalizing the activity, opportunities are becoming more lucrative. However, running an international business is not an easy task, but Microsoft Dynamics 365 Business Central is where the solution lies.

Our client, SKS365, has a game that is from another planet and 500 employees to convince it to stay on the Earth. The company has its headquarters in Malta, and offices in Rome and Belgrade. In Belgrade, SKS365 owns three companies and we have partnered with them to provide a unique system that will make data fly to Malta faster.
Planetwin365 is the SKS365 flagship product. Gaming industry experts who are passionate about sports betting stand behind the game. In addition to paying attention to the game itself, the company ensures fast and secure payment methods within the app.

Challenge: International business needs additional alignments
International business has its bright sides, but it also asks for some additional energy to keep the engine running. For example, bookkeeping across borders can be an exhaustive task of switching from one method to another. Without an aligned system, employees spend additional time trying to keep all stakeholders up-to-date.
Our client, SKS365, had two systems for bookkeeping. One system was used in Belgrade, and another one in Malta. Consequently, the same data had to be entered twice, and employees had to put in additional effort to achieve the alignment.
Goal: Align two systems to work as one

Our main goal was to align two separate systems to ensure that the intracompany exchange of financial data runs smoothly. The general idea was to create a unique chart of accounts, so whenever an employee in Serbia records an event, the same event is automatically recorded in the entire group. This is the result of Malta, Serbia and Italy switching to the Microsoft 365 Business Central at the same time.
The group's choice was to implement Microsoft Dynamics 365 Business Central, but it was upon our team to decide which partner will help us with this business endeavor. We decided to place our trust in BE-terna. As a result of the successful collaboration, our business is well connected across the group; there are no double entries, and, at the same time, our reporting is perfectly aligned with local regulations in all markets. Every single piece of information can be entered only once, which minimizes the time and effort required for manual tasks, as well as the chance for mistakes. Additionally, accounting is now done within the company, and there is no need for external accounting services, which reduced our costs.

- Savo Bakmaz, Finance and Managing Director, SKS365 Serbia
Solution: Microsoft Dynamics 365 Business Central on-time and within budget

The software that made the alignment possible was Microsoft Dynamics 365 Business Central and its three modules for Finance, Procurement and Sales.
What is interesting about the project is the fact that it was among our first Microsoft Dynamics 365 Business Central implementations. The situation was even more challenging when tight deadlines are taken into consideration. Thanks to the great collaboration we have with SKS365 and our extensive experience with Microsoft NAV implementations, we finished the project respecting all constraints, from time to budget.
It is fascinating that SKS365 recognizes Microsoft Business Central 365 as the primary tool and can use more and more new apps to stay up-to-date with their business. For example, in the same year, SKS365 implemented an app for incoming documents that helps them skip entering the same data twice! We are very proud that users have independently seen new features and improvements in the new system and that they are able to use new functionalities within just one new app.
- Jelena Mandić, Account Manager, BE-terna Group
Benefits: What did Microsoft Dynamics 365 bring to SKS365?
End users input data only once, so less time is spent on data entry.
Data collection is centralized and, therefore, the opportunities to leverage meaningful insights are limitless.
Communication between offices is improved due to the alignment of two previously separated systems.
Data is available to all stakeholders at any time so informed decisions are not the luxury anymore.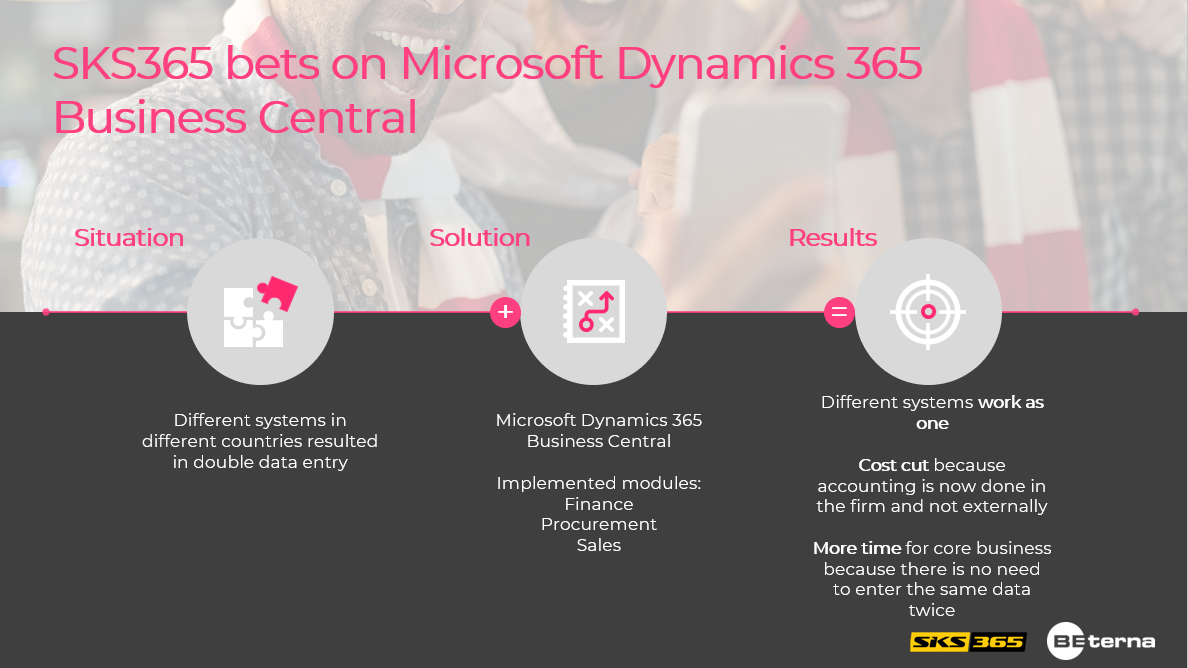 What is next?

A rock-solid database was created through systems' alignment. This way a foundation for further reporting improvement, for better monitoring and forecasting, and advanced insights was created. We are looking forward to even better real-time, data-driven business decisions.
We are looking forward to further consolidation of all our reports through Microsoft Dynamics 365 Business Central across all entities in the group.
- Savo Bakmaz, Finance and Managing Director, SKS365 Serbia