Do you also use voice assistants, fully automatic parking assistance, or do you get help from automated workflows at work on a regular basis?
According to the latest study from the Bitkom association (10 December 2021), one-third (72%) of Germans have a positive stance on using artificial intelligence (AI) technology in everyday life and see "opportunities" for improvements therein. AI solutions have become an indispensable part of our day-to-day lives and offer many possibilities to improve process automation and increase efficiency in companies. Because of this, we would like to take the opportunity to present you the Microsoft Power Platform AI solution in this blog. Under the name of AI Builder, this AI tool holds a few surprises for your everyday work. Read more and discover how the AI Builder can make your life easier!

The AI Builder from the Microsoft Power Platform

The AI Builder is part of the Power Platform, and it is able to cover numerous possible scenarios and challenges in the office. Once it is put into use, it enables you to depict AI-assisted processes, and the range of assistance it offers goes beyond normal process automation. From automatic information extraction from forms to recognising objects on images and even identifying the emotional state of the author of a text based on the choice of words – you can do a lot with this AI solution.
The functionalities of the AI Builder can be easily, purposefully and scalably integrated into workflows and processes. The user does not need any previous knowledge in the areas of AI or software development.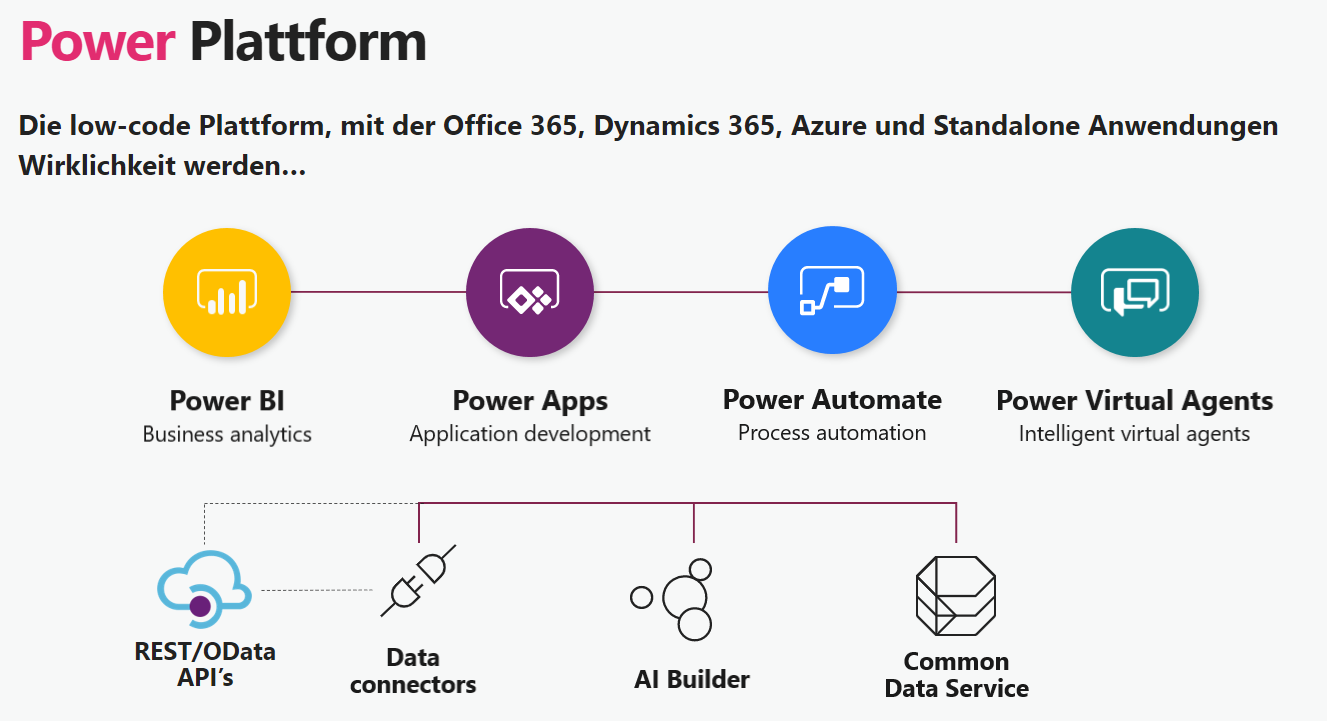 The Power Platform is a low-code/no-code toolbox that perfectly complements Microsoft Dynamics 365 Finance and Supply Chain Management. Using the Power Platform's tools, fast and customised solutions for different business challenges can be developed without a lot of effort and without coding skills.
An AI solution miracle: The AI Builder's applications

The AI Builder's functions can be provided via various channels in Dynamics 365 Finance and Supply Chain Management and integrated into process flows. Individual functions such as form detection can be invoked, and you can create and train what are known as "models". These models are generally available in the Power Platform Environment and can be used based on their function. During the process, it is beneficial to group related functions and processes into separate solutions, which creates a logical sequence, making it easier to subsequently make a transfer from a development environment to a productive one.

Process automation options using the AI Builder:

Identifying and classifying objects on images: This is often used in assortment management and inventory level analysis.

General data extraction from forms: Such as addresses, names, con-tact information, and invoice numbers for invoice processing.
Data extraction from prose text: Slots – which are used and filled in this process – can be processed using Power Automate Flow.
Sentiment Recognition analyses the emotional state of a text author. Such models are used, e.g., in call centres.
AI-assisted text and form recognition combined with data extraction constitute the heart of the AI Builder. Unlike conventional "optical character recognition" (OCR), the AI Builder is able to appropriately qualify the identified text. Using a form recognizer, it analyses how high the likelihood is that the previously identified text was properly recognised. This inconspicuous add-on grants the ability to assign forms that are below a certain level of probability to an alternative workflow and to present them to an employee for inspection.
Practical example: An AI solution for supplier invoices

We will show you how you can use the AI Builder using the practical example of creating a supplier invoice.


AI Builder-Experte Martin Hold zeigt Beispiele aus der Praxis
Recorded Webinar: Prozessautomatisierung mit dem AI Builder
Gleich anschauen!
Using the AI Building makes it easier to manage supplier invoices, and there is no need to leave the familiar Dynamics 365 environment!
This means that the processes you set up and train run fully automatically in the back-ground: The supplier invoices and their contents are identified using a special library and are forwarded to the downstream Dynamics 365 Finance and Supply Chain Management System.
If a fragment or slot is not identified properly, then the incorrectly registered invoice is fed to a new workflow, which forwards the document to an employee for data verification.

But what exactly does this mean for day-to-day work?
Increased throughput

The automated AI Builder Process increases throughput since the incoming invoices are not just registered and processed during business hours but also on nights and week-ends. In other words, neither you nor your employees need to toil with time-consuming routine work nor worry about invoices during your working hours – saving time, nerves and resources.

Fewer mistakes
Thanks to the AI Builder's AI-assisted automation, the error rate significantly decreases with the increasing number of processed invoices. In other words, the better you train the AI Builder in advance, the more reliably and effectively it does its job.
Our tip: Take some time and invest in training your AI Builder – the AI tool learns every time you do so. Five to seven invoice examples per supplier are enough to effectively train with reliable results, and the invested time ultimately pays off.
But as a general rule of thumb: The more incoming invoices you provide to artificial intelligence as training material, the more can be expected from the system from an operational standpoint.

Benefits of using the cloud
The use of the AI builder and the Power Platform offers powerful access to the ad-vantages of Azure Cloud Services. In most cases, the ongoing improvements to the algorithms are available in real time and consistently keep the utilised systems up to date. Thanks to Azure Cloud Services, your business can take advantage of the general location independence and the high protection mechanisms for your data. If you use local systems, they can also be seamlessly integrated into Azure Cloud Services via gateways. With Azure Cloud Services, you can say goodbye to local data silos and cumbersome data exchanges via archaic networks.

Why is the AI Builder a powerful AI solution?
As we have explained, the AI Builder enables process automation in various fields and can significantly increase efficiency in your company.
That leaves more time for strategy, creativity, day-to-day business and – finally – more time for your customers! Take advantage of the opportunities to ease the burden off your employees. Foster their creativity and motivation by freeing them from cumber-some routine work and give them the ability to focus on what is truly important.
Along with easing the burden off your employees, economic factors also speak in favour of integrating artificial intelligence into business processes, and for the AI builder from the Power Platform:
AI-assisted workflows are location- and time-independent and can run 24 hours a day, seven days a week. AI processes can perform important preliminary work outside of normal business hours, and employees can simply follow up on it the next day.
Errors are significantly reduced, for instance, when it comes to registering or approving an invoice.
AI-assisted processes can also be easily added for support, thereby successively improving, and expanding existing processes, and this mainly pertains to processes or areas in which the daily workload is high.
Generally, any AI Builder-assisted process works with the utmost effectiveness and reliability if it has been provided comprehensive training in advance, which prepares the software for many different situations.