When and why did you join BE-terna as a Solution Consultant, what initially drew you to the company?
I had worked in the ERP field for 7 years before I joined BE-terna. Back then, BE-terna was some kind of "Evil Empire" to me, because it had a dominant position in the market and the majority of good projects went to BE-terna. When they contacted me, I did not have much choice, because I wanted to stay in the ERP business on the partner side, and BE-terna was the only reasonable opportunity due to its strong focus on Dynamics NAV. (nb. this paragraph sounds pretty negative, like he was forced to work for BE-terna! 😉 )

What is the job of Solution Consultant like at BE-terna? What is a typical day like for you?
I work as a Solution Consultant. In short: "Problem solving", or to be fancier, "Solution finding". I try to find optimal IT solutions to customers' problems. A typical day depends on whether I'm in the office or at a customer's premises, but usually it starts with some mundane tasks like making coffee, and continues with more challenging issues which range from working on sudden problems in the customer's software, having meetings with colleagues, or trying to design a new functionality in the software.

What are the pros and cons of being a Solution Consultant?
One of the biggest advantages of being an ERP consultant is the depth of knowledge you gain. Working in this position, one can learn how a business functions as a whole, which is something that doesn't fade with time. For example, some of the problems my clients face are very similar to the ones companies faced in the 70s/80s, and some of the ideas from back then can be reapplied now. During my tenure as an ERP consultant I have learned accounting, organisational behaviour, manufacturing, trading and so on. That being said, ERP is a little slow in adopting the newest or fanciest technologies, but progress in software inevitably comes to the ERP field as well. Therefore, you may not be able to work with some of the newest technologies all of the time.

What does it take to be a Solution Consultant?

You need to have multidisciplinary mindset. You need to understand the software and its functionality, but also to understand the customer's needs and how the software fits with their needs. For example, let's say that a customer wants a new webshop. You need to know how this webshop works, what it supports and what it does not, but you also need to understand what part it plays in the customer's operations. Is it only one additional sales channel which serves to attract clients to the customer's premises, or is it the other way round, does the customer want to push their existing clients towards their webshop? That means you need to accept the fact that you will always need to invest in your knowledge and to learn new things.

Who would you recommend BE-terna as an employer to?

To someone who has long-term plans and who is always curious to learn new things. It is not for intellectually lazy people. Imagine this situation: you order a package and it is delivered to your address, but with incorrect items in it. If you think to yourself "What a stupid company, they cannot pack a single order properly", then stay at you home and enjoy your life. But if you start to think "What could have gone wrong with the system that resulted in them failing to deliver the correct items? Maybe they did not write down my order properly, maybe someone in the warehouse messed things up, maybe the delivery company took the wrong package…", then reach out to us. You may find that you are a good fit here.

If you could choose 3 adjectives to describe BE-terna's culture, what would they be?

I'm a big fan of the theory that behind every company slogan or motto, there lies a distortion of the truth about those companies. For example, companies that espouse care for their employees with statements like "Employees are our biggest value" may in fact treat their employees like disposable assets. The same goes for customers, often companies that say they are customer-orientated are in fact internally orientated.

In our case, this would be Adacta's (prior company) motto "Consider IT done" which is basically a typo, and should read "Reconsider IT done". And those three words describe our culture the best. IT is not some finite state, but it is in flux, we always reconsider our solutions, we always questions ourselves, and this is in fact a good thing for me.

When I was a kid I wanted to be…

I experienced a split between the wishes of my parents and my own wishes. They dreamed I would become a surgeon. The only problem I had is that I'm afraid of blood. And I wanted to be a garbage collector (don't ask me why, back in the old days that job had higher status than today). I became neither, but hopefully I can say that in my current position I utilise the precision of a surgeon and the diligence of a garbage collector.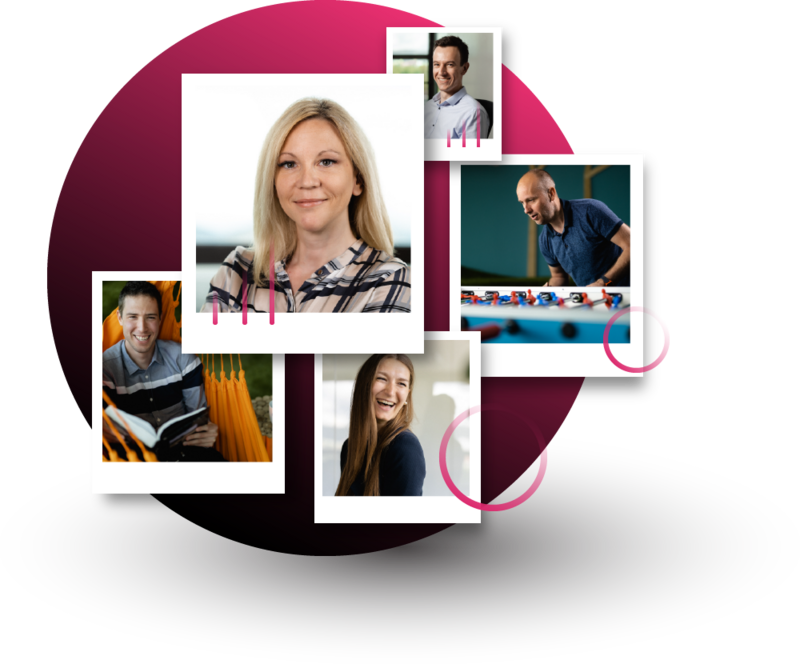 Every person is a story
We don't just fill roles, BE-You!
See all interviews