If you're an SMB, there are several signs, you might be outgrowing your existing technology.

Take a look at the list below and see if any of the issues faced by companies ring true:

Systems are disconnected, information is siloed and you spend too much time looking for the right data

Inability to handle increased transaction and inventory

It takes too long to prepare reports and the process is too complex

Manual processes are slow and require you to enter the same data multiple times

Lost productivity caused by disconnected systems and the need to switch between applications

Security and compliance concerns prevent you from moving ahead quickly and engaging with your customers

Your company might be facing one or several of these challenges. You're not alone: 54% of organizations struggle with process and system integration issues and 50% of organizations think creation and configuration of reports is too complicated. And it's not just about your internal challenges, your customers expect you to change as well: more than 90 percent of consumers said they would consider taking their business elsewhere rather than work with a company that uses outdated technology.
This shouldn't be you.
Your existing solutions might be holding you back
These challenges often stem from limited tools and processes that are stunting your growth and preventing you from engaging with customers and building loyalty. The main culprits are usually accounting software or stand-alone customer relationship management (CRM) systems. As you outgrow these partial solutions your people start wasting too much time and energy on switching between applications, looking for information in different spreadsheets and making calls to other people with the data they need.
The solution includes a set of core capabilities: Financial Management, Sales & Service Management, Project Management, Supply Chain Management, Operations Management and Reporting & Analytics. Integration between modules means that all your people have access to the information they need where they need it.

In response to these issues, Microsoft launched Dynamics 365 Business Central.
Microsoft Dynamics 365 Business Central is a unified cloud-based solution that seamlessly connects your people and processes to facilitate data sharing and reporting.
Let's look at some examples:

As your sales rep makes a change to a quote, the change of quantity is reflected in inventory numbers used to make forecast reports.

Your sales person is preparing a quote and can review inventory levels as they create the sales order.

The entire process from quote to cash is supported by a single solution – set up vendors and customers, prepare a quote, process the order and submit the invoice to close the transaction.

The solution is entirely modular and you can choose only the modules you need to support your business. You can start with just a module or two and add additional functionality as your needs change.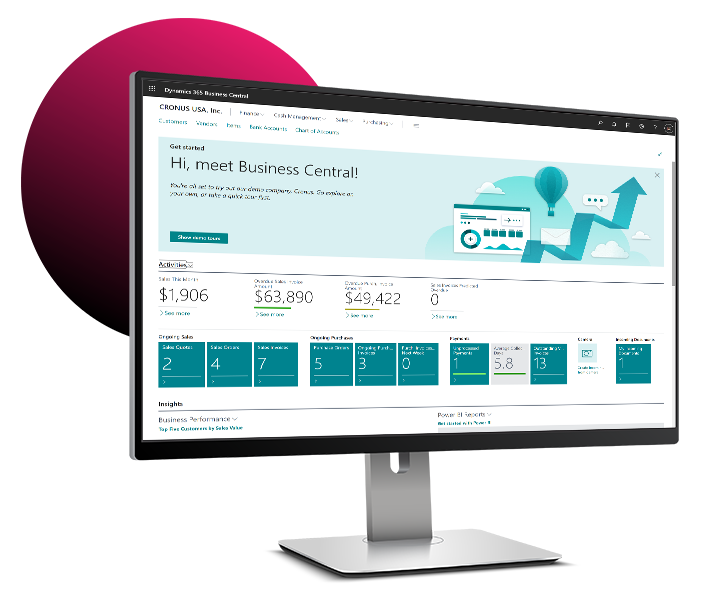 Dynamics 365 Business Central
A modern All-in-one ERP for small and medium businesses
Explore
Tangible benefits of an integrated solution
Microsoft Dynamics 365 Business Central delivers a host of benefits to SMBs:
Connect your business. The integrated solution removes silos for seamless sharing of information between people and processes. All your data is available across all of your devices ensuring your employees can work anywhere and deliver better customer service. Having all the information at their fingertips allows them to focus on the customer instead of logistics of finding the right data.
Connect with your customers. You need a 360-degree customer view to see and understand all the data you've collected over the years. Only after seeing the big picture can you decide on the best approaches that work and personalized offers that sell.
Do business anywhere. Full support for mobile devices allows your people to do their work anywhere, enter orders from the field, confirm inventory status or deliver better customer service with full interaction history.
Improve your insight. All business data is available to your decision makers through interactive dashboards and flexible KPIs tailored to individual user roles.
Start quickly and scale when you need. You can choose the modules you need and then extend their functionality by using PowerApps or 3rd party solutions offered in the AppSource marketplace. As your needs change and your business grows, scale the system without needing additional hardware or changes.
Safeguard your business. Dynamics 365 Business Central delivers advanced security and role-based workflows as well as guaranteed uptime and data backups. This way you can focus on your business and not managing your servers.
Move to the cloud. The key benefit of Microsoft Dynamics 365 Business Central is that it is based in the cloud. While replacing and migrating your existing business systems in the cloud may seem like a big step, the benefits far outweigh the risks.
Sure, the move results in cost reductions. However, scalability and business agility are becoming far more important factors in the decision. Gigaom Research reports that 71% of strategic buyers cite scalability, cost and business agility as the most important drivers for using cloud services.
Also, cloud is no longer a novelty. 78% of SMBs already use at least one cloud infrastructure solution and 92% use at least one cloud business solution. The cloud is here to stay by virtue of generating solid and measurable business rewards.
Find the partner
Choosing Microsoft Dynamics 365 Business Central is a decision that makes sense and BE-terna can help guide you every step of the way. We are experts in managing and migrating ERP and cloud migrations. We help SMBs make the leap towards digital transformation and offer decades of experience and modern methodologies you need when deciding on a powerful business solution.