As the coronavirus is forcing us into the new normal, the work of insurance companies has not stopped. They need to keep on selling, renew insurance policies and resolve damage claims.

How did the insurance industry respond to the social distancing and what does it mean for customers?
Insurance carriers have responded to new circumstances with different approaches and new work processes. Their customers have access to online support and companies switched to online sales meetings. The deadlines for damage claims and filing related documentation have been extended. Validity of insurance policies have been automatically prolonged. Their employees' exposure has been limited by using virtual communication tools to ensure uninterrupted operations given the current situation. By adopting these measures, they have extended a helping hand to their customers and relieved them of some of their worries.
Disruptive changes in customer behavior and emergency responses have dramatically shifted workloads within organizations. Many on-site operations have been drastically reduced and long-term software-transformation efforts paused, but call centers and online channels still must be scaled up rapidly to meet demand. Some companies have responded quickly to the new digital customer behavior by establishing new products, such as mortgage deferrals and crisis-related insurance, or shifting customer interactions to online channels. McKinsey
Insurance companies are facing challenges of social distancing
Even before the epidemic, insurance companies had flirted with or already adopted some digital solutions although not to the extent they are forced to do now. While security and customer satisfaction top the list of priorities, they result in the loss of revenue and a backlog of damage claims. Despite isolation and social distancing measures that were forced onto us by the coronavirus, damage events continue to happen. While insurance companies managed to adapt their operations when it comes to sales, they are aware that customer satisfaction depends on the rapid processing of damage claims and the resulting pay-outs. But how do you remotely assess car damage or a broken window if most countries banned unnecessary travel while customers need to complete the process and get the payment as quickly as possible to fix the damage?
A crisis such as Covid-19 affects all business sectors - but it especially puts a spotlight on insurers who can expect to be inundated with general inquiries and claims across multiple different lines, whether that be for health, life or non-life cover. Balancing the need for responding to this influx of activity in the contact centres with a quickly shifting remote workforce is an area that insurers are working to address. Of course, countries are at different stages of coronavirus activity. KPMG
Remote Claim Settlement Solution for faster, safer and efficient work
One of the technologies that solve today's limited claims processing is the Remote Claims Settlement Solution (RCS). Remote claims settlement uses intelligent video streaming-based solution to decrease the time for claims settlements, which is beneficial for both involved parties. The solution helps speed up the claims procedure with the help of video streaming using the customer's mobile phone. It enables the call centre agent to carry out inspections remotely and see what the customer sees. During a video call, the adjuster can inspect and document the damage through the camera on the customer's mobile device. The adjuster can pause live video, take remote AR (Augmented Reality) measurements, highlight key issues, save and upload images to the customer file and even share documentation on the customer device or agent's computer screen. Although the customer is handling the mobile phone on site, it is the adjuster who controls the camera from their location.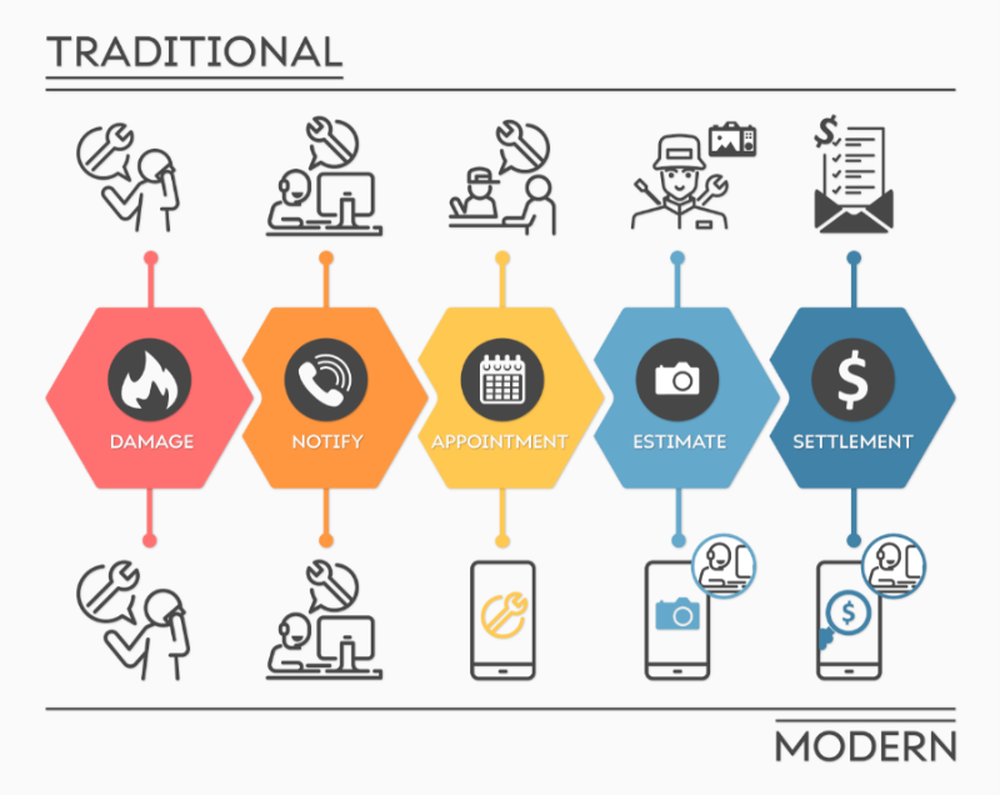 Traditional and modern claim settlement process
Processing claims remotely can be optimized with the help of Artificial Intelligence algorithms and Machine Learning
The RCS solution can be augmented with an intelligent recommendation system which compares uploaded pictures of the claim in the background, uses it with the claim history data and then provides a customer service agent or adjuster with the pertinent information needed to settle damage in real-time. With a solution like this, the policyholder's claims are submitted, approved and settled during their first call and customers get reimbursed within a single day.
What are the solution benefits?
The solution significantly shortens the claim processing time and reduces its cost. As a result, customer satisfaction increases, as a customer can file a claim immediately using a mobile call. Remote claim settlement through intelligent video streaming is a simple and straightforward process as customers use their mobile phones and only need to complete simple steps guided remotely by customer service agent or adjuster without the need for an onsite visit.
To avoid such circumstances, insurers may have to take additional safety steps such as setting new protocols for in-person interactions with claimants or requiring claims to be investigated from the office or an alternative remote location where possible—even those that normally require site visits. Insurancenewsnet
Integration with a CRM or Claims Management solution
RCS solution can be used as a stand-alone solution, integrated with your favorite CRM or as a part of the claims management software. RCS solution integrates seamlessly into your existing contact center solutions with minimal effort. RCS works in harmony with your current processes to maximize the impact of your service department.
RCS solution is web based solution with the extended integration capabilities and therefore can become a part of your existing software solution used in your existing processes.
The good news is that the solution can be implemented in any insurance company in less than a couple of weeks.

Is this only a stopgap solution or the new normal?
Of course, there is the question of why you should implement a new solution if life is going to return back to normal in a few weeks. Well, the answer is – we don't know whether it will. We don't know when and even if the life that we knew before is going to be the same as it was. The largest global experiment of our time will bring about a new way of thinking, living and doing business. Even the smallest groceries have implemented online stores overnight and the future of every business will depend on being able to take care of their customers with a few clicks without ever leaving their couch. So, think again – are you prepared for the new normal in every aspect of your business? Even if you are not, your customers surely are.