BE-terna and the American Chamber of Commerce in Croatia organised a joint event on the challenges and trends in the HR world. The event brought together HR professionals from various companies and industries to share knowledge, ideas, and experiences in the field of human resources management.
HR TRENDS IN 2020
Werner Mack from Cornerstone OnDemand gave a lecture on "Trends and topics in HR in 2020" as an introduction to the event. He highlighted some of the most critical trends, two of which are closely related to the use of new technologies. One of them is virtual reality, which offers the ability to simulate real-world situations. It is expected to be used in designing training and programs for the improvement of soft skills, interpersonal skills, and their practicing in a secure, virtual environment.
Employee learning and development have become imperative when it comes to achieving satisfaction and creating a positive employee experience. Artificial intelligence integrated into a learning system that recognises and personalises education for each employee will become the cornerstone in developing a quality learning program. Many global companies have long recognised this trend. They have reached out to solutions such as Cornerstone OnDemand, which offers the development of a personalised learning program using previously mentioned artificial intelligence.
There is also the other side of technology advancement. Innovation in technology creates a need for new skills and employees are struggling to keep up due to a lack of company investment in their development. As a result, a widening gap is expected between the employee's skills and skills that a company needs to ensure constant growth and competitiveness. Werner Mack pointed out in his lecture that according to Gartner's survey, only 1 in 5 employees think they have the necessary skills for their future career, while 70% say they haven't even mastered the skills they need for their jobs today.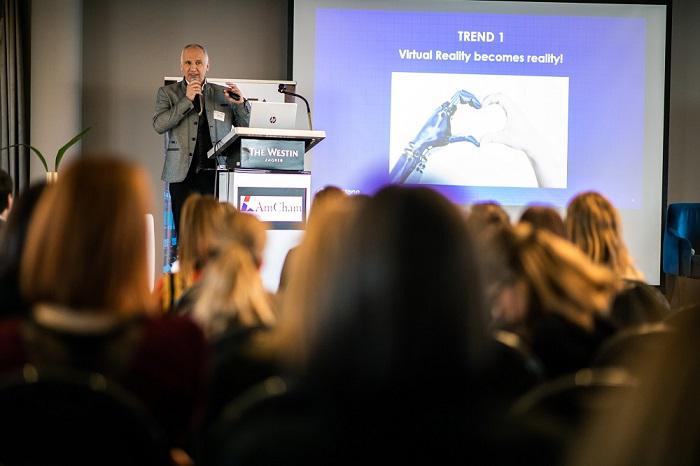 Werner Mack, Cornerstone OnDemand
CONNECTED WORKFORCE
Jovana Ivanović, Senior Talent Acquisition & Identification Manager at Coca Cola HBC, presented innovative solutions that Coca Cola HBC implemented in its business to connect employees and those who are yet to become.
Coca Cola HBC, a global company with more than 30,000 employees, has implemented several innovations in the recruitment process over the past few years to help accelerate it, and adapt it to the needs of new generations. Video interviews are no longer news but a few companies in Croatia are opting for this step. Through video interviews with pre-recorded questions, Coca Cola HBC improved the effectiveness in selecting the best candidate.
Jovana also showed an example of a game created by merging cognitive neuroscience, artificial intelligence, and data science that puts tasks and challenges ahead of candidates. At the same time, the background system generates a significant amount of data to identify the best talent in the early stages of the recruitment process.
In addition to selecting top talent, Coca Cola HBC pays great attention to its continued development and advancement. They launched the HALO program, using Cornerstone OnDemand's talent management solution, which serves as a great knowledge base and helps employees stay up to date with new skills. In addition to the learning module, Jovana Ivanovic mentioned the Cornerstone Recruiting and Performance suite, which they also use in their HR.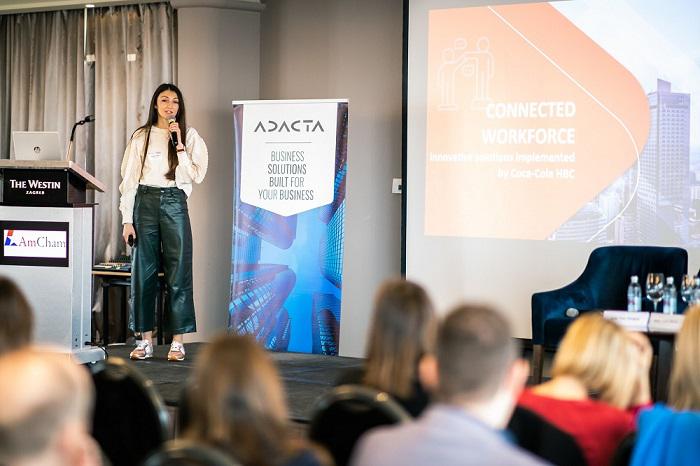 Jovana Ivanović, Coca Cola HBC
AGILE HR
After breakfast and a short break, an interesting panel discussion was held on the topic: "Can only agile HR create processes and practices that will support constant business innovation?".
An agile approach to work is one of the trends that until recently has been faced only by IT companies in the software development industry. Today, many other companies in various industries are slowly adopting it. HR is expected to adapt to the business and capitalise on alternative ways of working to help the organization in a dynamic environment. Through a panel discussion, Mojca Domiter (Atlantic Grupa), Marija Zovko Kordić (A1), Luka Abrus (FIVE), and Tea Cergna (Valamar) shared their opinions on the question "Can the agile approach be applied to HR?". Vladimir Benić (Career Center) moderated the discussion.
The main idea of debate was that applying techniques such as short daily meetings or other SCRUM methods does not make a department agile. It is a philosophy that encourages people to learn and develop, experiment with solutions, adapt their work plan to changes, and not vice versa. Implementing an agile approach is not an easy process. For its success, it is crucial to educate employees, which was agreed by all panel participants. It is important to understand employees' wishes and needs and understand their motives for staying in the company. The panellists agreed that one of the essential preconditions for the success of the agility method is having measurable goals as it is easy to lose the direction in which companies manage people, and often only become aware of this when it is too late.
"As long as job systemisation continues to be the holy grail of HR, can we talk at about agile HR and agile in general?" was the panel's conclusion and a question that remains open to future discussions.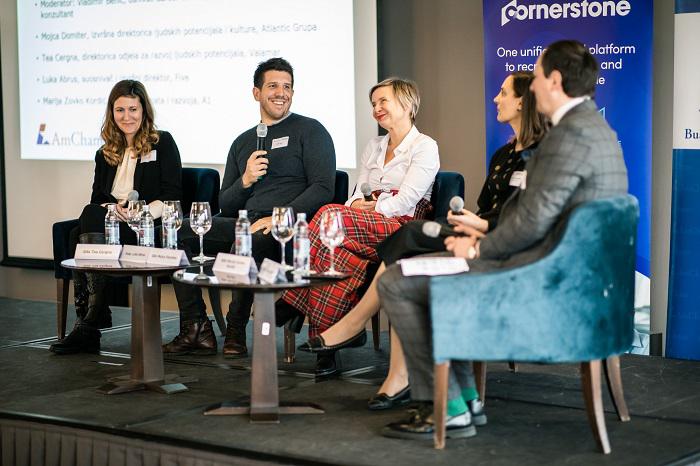 Panel discussion: "Can only agile HR create processes and practices that will support constant business innovation?"
BUTTERFLY JUNKIE
A great event ended with a motivational story about private and business life, one of Croatia's best chefs, David Skoko. Overcoming his fear of heights, David felt butterflies in his stomach. He decided to follow that feeling as a sign that what he is doing is worth the effort. The agile mentality, love for challenges, and willingness to change that follow him in his butterfly hunt were also evident in the work of the family restaurant Batelina, in which David created dishes that put the restaurant on the map of the best restaurants in Croatia. The charismatic, passionate, and impressive speaker was the cherry on the top of a successful event organised by the BE-terna and the American Chamber of Commerce in Croatia.
David Skoko, Chef