The Virtual Reality revolution is already here – and it isn't only for gaming. Augmented Reality is also becoming a part of our lives and it is no longer just about the Pokémon GO game.

At the start of this year, BE-terna established a new department – our Center of excellence – where we support businesses with custom Artificial Intelligence (AI) solutions, a smart IoT (Internet of things) platforms and even Virtual reality (VR) and Augmented reality (AR).
AR and VR creates powerful new industrial solutions
AR and VR technology creates powerful new industrial solutions that are already part of our lives, and at Adacta we obviously don't want our customers to see us as a Nokia in an iPhone world. 😉
But first, before we dive in to the industrial solutions that we are working on, let's see what VR and AR really are, and what the difference between them is.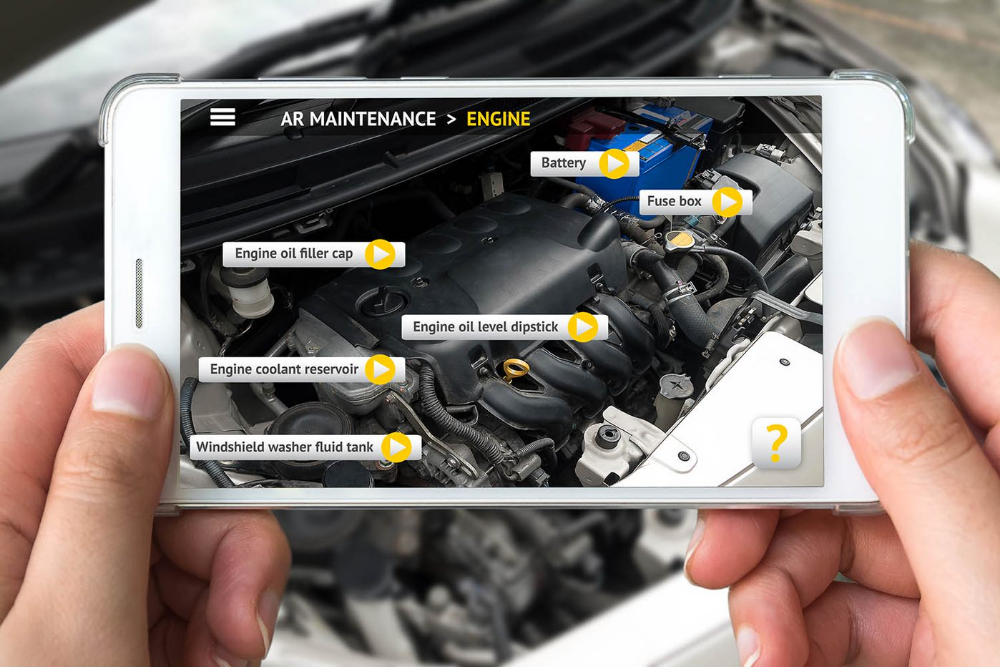 The difference between VR and AR
Virtual reality and augmented reality are in the same vein when it comes to modern technology. They both deal with digital content relayed through an immersive environment or experience. The difference, however, is how encompassing that experience truly is.
Virtual reality (VR): Complete immersion in a situation, scenario or environment to such an extent that you feel completely present, somewhere else (example). Now that we know what VR is, we have to define what AR is.
Augmented reality (AR): Superimposition of digital content onto the real world in such a way as to amplify and enhance where we are now. A very simple example that helps one to understand what AR looks like or how it could look in everyday life is Domino's New Pizza Chef. You are sitting in the restaurant and in front of you in the real place (not a computer generated one), you can see the virtual pizza with toppings, sizes, spiciness, whatever you want until you are completely satisfied with your order. VR and AR together is known as Mixed Reality. Mixed reality is the result of blending the physical world with the digital world (AR and VR). Mixed reality is the next evolution in human, computer, and environment interaction and unlocks possibilities that before now were restricted only by our knowledge and imagination.
AR and VR for Microsoft Dynamics 365 solutions
We provide interactive mixed reality solutions by leveraging all of the world class Microsoft Dynamics 365 cloud based products and services. These are enterprise grade, robust and secure. We are developing custom products on top of these solutions to provide custom tools to our customers and solve business-specific problems. To get a better idea of what we are about to do – here is a Microsoft example of Dynamics 365 Remote Assist for HoloLens 2 and mobile devices.
This is a perfect example of where we are and where we are going. The beauty of mixed reality is that it provides numerous options for where the technology can be used. Currently the most important and well-known are:
1. Hands-On And Safety Training: Technical products consist of thousands of components. Factory workers need to keep track of dozens of spreadsheets, moving back and forth between a series of documents and field operations. AR apps can help by setting up a unified field for visible input, in which assembly instructions are presented in the same space, using hands-free voice control.
2. Efficient Equipment Maintenance: Reduces the stress of a noisy work environment and improves productivity when building electrical systems or water-treatment plants.
3. Increasing worker productivity: One example of successful AR and VR is the elimination of critical mistakes in processes by collecting sensory input from the environment.
4. Maintenance: Imagine if your maintenance crew could see exactly what equipment and hardware needed servicing, as well as any potential issues. Better yet, imagine if that same system were expanded to show them operation times, date of last service, potential points of failure, and much more.
5. Streamlined Logistics: With emerging AR technologies, workers could tap into a connected system that tells them exactly where products and goods are, allowing them to work at a much faster pace. Better yet, they could scan the necessary information using the AR system, which could then be designed to propagate the order. Then, all the employee would need to do is collect the product and deliver it to the correct party.
6. Lowering Operational Costs: Technologies can provide immersive, real-time, on-the-job training, which is vital for reducing training costs in manufacturing industries, which are infamous for their high turnover rates of technicians.
Mixed reality can also be used in Product Design, Development, Quality Assurance, Complex Assembly, Expert support, Streamlined Logistics and many many mores.

**CTA**