The critical factor that requires insurance companies to keep pace with digital transformation and technologies is the fact that policyholder expectations and needs are ever-changing.
Find a free demo at the end of this blog.
The very structure of policyholders has been changing as millennials have slowly entered the insurance market. Younger generations are attached to their phones and other gadgets, and are more likely to embrace digital channels and technologies. As a result, today's customers expect a fully digital experience, with tailored-made products and services.
Peer pressure and stiff competition from leaders in digital transformation, InsureTech companies, along with unpredictable market conditions require insurers to act quickly and transform their business models or struggle with high customer churn rates.
A changing competitive market forces insurers to provide digital services and advanced customer experiences in all business areas, from policy issuances to claim settlements. Accenture's research states that for 94% of customers, speed of settlement and claim process transparency are the most significant contributors to customer loyalty. Digitalising the claim management process should be a top priority, as claim management represents the core business process affecting insurers' revenue and customer loyalty. Embracing the digital claim customer journey enables insurers to provide an exceptional experience for their customers.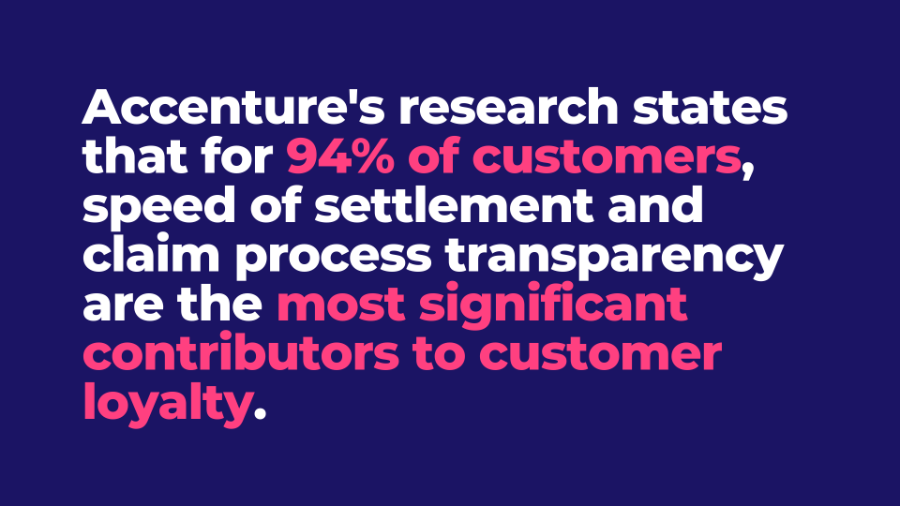 1. The digital claim customer journey
The traditional claim management process lacks a standardised approach in claim handling procedures, and requires plenty of paperwork and manual interactions between employees and customers. Consequently, claim technicians and claim handlers are less efficient, and the process is not performed promptly, which causes claim processing to generate higher costs and also negatively affects customer satisfaction. To survive in a highly competitive market, insurers must follow new trends and direct their long-term strategies towards digitalisation.
The digital customer journey is a buzzword among insurers nowadays, but very few can offer a fully digital, end-to-end, customer claim journey. Therefore, insurers should start redesigning their claim processes, focusing on customer satisfaction and process optimisation, in order to provide simple, fast, and transparent claim services. In addition, every touchpoint in the claims journey, starting even before a claim event occurs, should be supported by a combination of technology, AI and ML models, omnichannel experience, and claim technician intervention for more complex claims.
Nowadays, in the light of digital transformation, insurers do not have to make a trade-off between customer experience and claim costs. According to McKinsey&Company research, the digital claim customer journey can contribute to:
Increased customer satisfaction by up to 20%
Improved claim handling accuracy by reducing overpayments and underpayments
Reduced claims expenses by up to 30%.
Forward-thinking insurers, who are eager to implement end-to-end digital claim processes, have to go through a demanding journey by implementing new business models and focusing on customer experience, process optimisation, and claim prevention.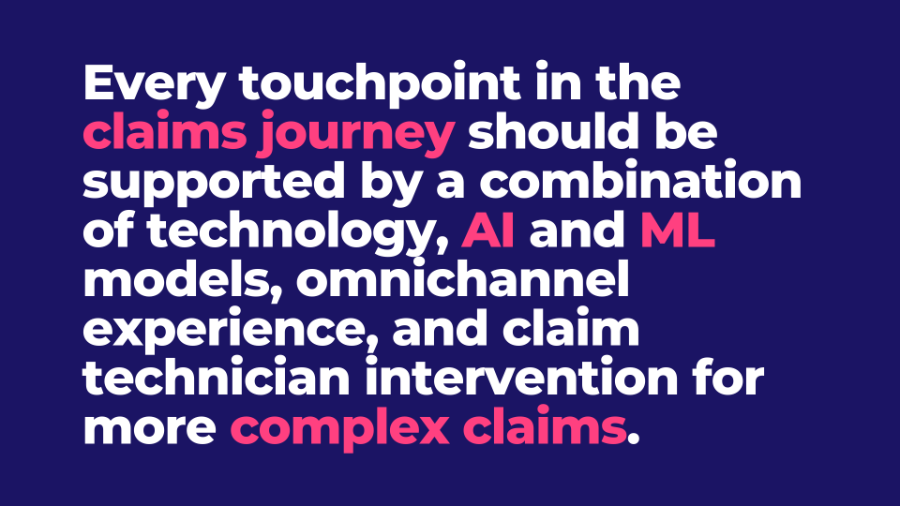 2. Superb customer experience
A PWC report states that 41% of customers are likely to switch to another insurer due to a lack of digital capabilities. Delivering average claims satisfaction via traditional communication channels is not enough in today's fiercely competitive market. Customers expect outstanding experiences, 24/7 support via their preferred communication channels, and intuitive digital processes. Traditional communication channels such as email and contact centres will slowly become obsolete, while social media channels, customer-self services portals, and intelligent chatbots are now taking over.
By utilising new, digital channels, customers have greater flexibility and mobility, so they can report a FNOL, check the status of a claim, or schedule an appointment with a claim appraiser from the comfort of their armchair.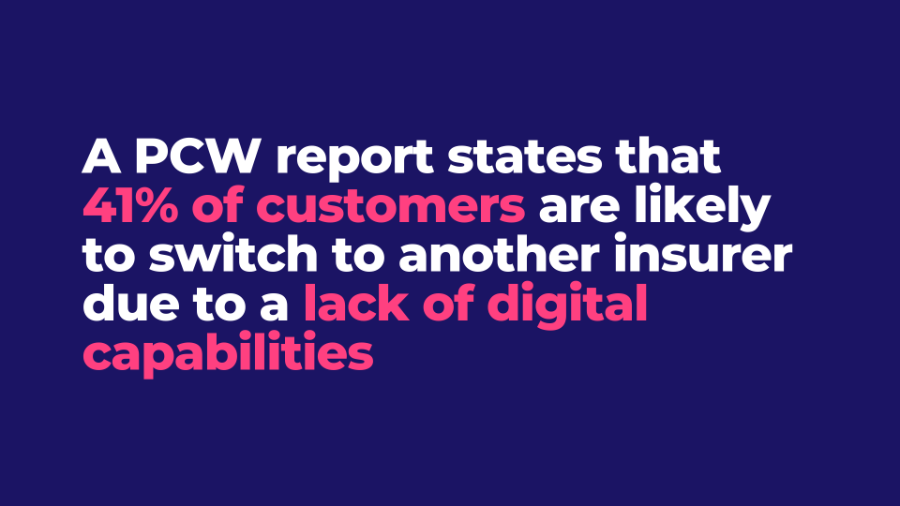 3. Chatbots as a self-service tool
Adopting insurance claim chatbots brings insurers greater profitability, cost-effective operations, time savings for employees, and a positive customer experience. Intelligent chatbots can play a significant role in facilitating the claim process and eliminating repetitive work for claim technicians, such as FNOL reporting and providing claim status updates. Chatbots are now intelligent and powerful thanks to AI and ML algorithms. With cutting-edge AI technology, simple claims are automatically settled within a couple of seconds. Self-learning models provide claim validation by differentiating between fraudulent and valid claims.
In addition, chatbots can ensure a personalised customer experience in every conversational interaction. Although chatbots are able to replace repetitive manual work, human intervention is still necessary for complex claim settlements. Moreover, some clients prefer a combination of digital and the human touch, so interaction with live agents can be a valuable experience. Chatbots are not meant to replace human workers but to improve efficiency, reduce costs, and ensure a superb customer experience.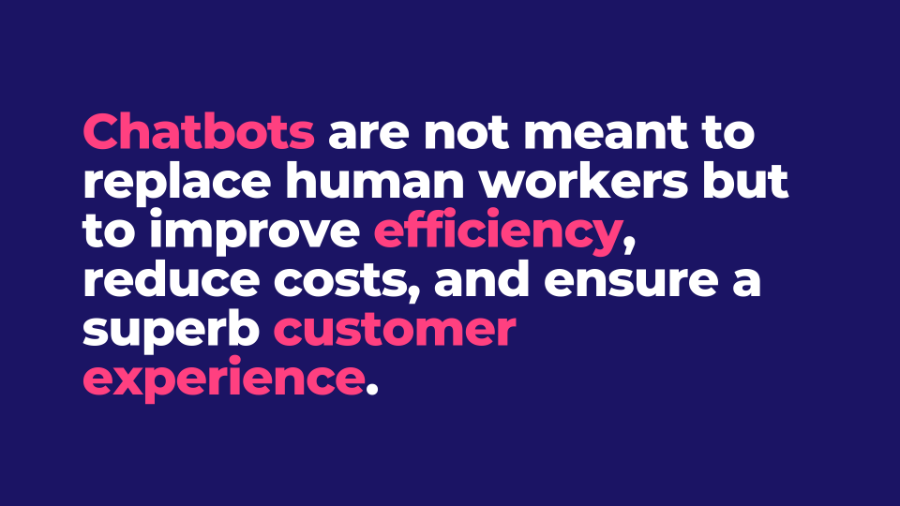 4. Process optimisation and automation
Insurers need to change the perception of them being old-fashioned and position themselves as reliable partners, eager to take care of their clients when claim events occur. Consequently, insurers need to optimise their front-end and back-end processes by utilising the synergistic effect of technology platforms, AI, and ML tools to offer a genuinely innovative customer journey.
Automation of back-end processes, such as claim calculation and claim liquidation, can be achieved in core insurance systems by implementing standardised calculation methods and reports. In addition, improved communication and interactions with customers can be achieved through collaboration tools, such as Customer Relationship Management applications, which integrate traditional and digital communication channels into one unique touchpoint. Moreover, artificial intelligence tools and machine learning can help reshape the claim process, whilst improving and accelerating decision-making. Machine learning algorithms reduce the human error factor, time, and costs, thus providing significant increases in revenues.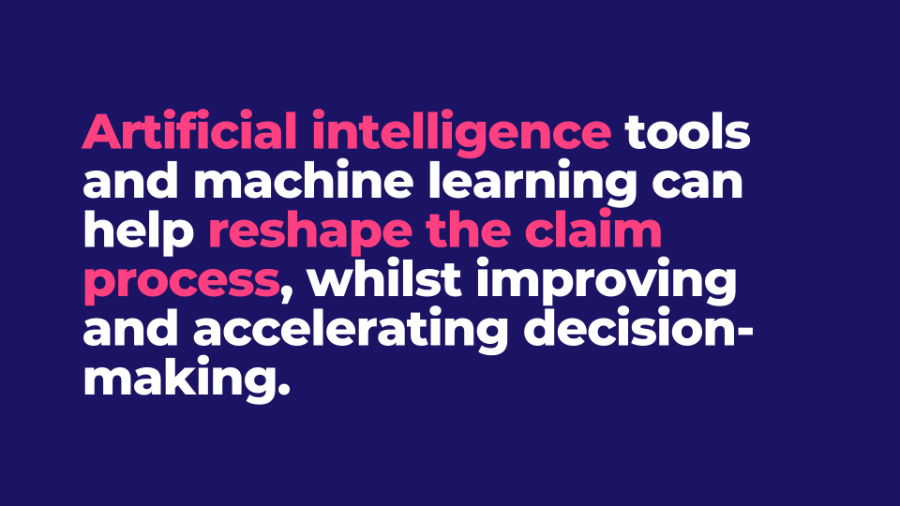 5. Shifting from a claims-handling business to a claims-prevention one
Insurers can attain a tremendous competitive advantage in the market and reduce their costs by dedicating resources to claim prevention, rather than focusing on the traditional claim handling process. Data-driven insights and devices such as mobile phones, wearables, and telemetrics have considerable capabilities in claim event prevention by alerting customers about risks before a claim event occurs. The prevention operating model, widespread in car, life, and home insurance, reduces the number of reported claims and positions the insurer as a reliable partner. Digital technologies allow insurers to benefit from third-party data and connected devices to provide tailored risk coverage and preventative communications.
On the other hand, customers can also enjoy the benefits of preventive communications by utilising their favourite gadgets and guidance from their insurers. Thanks to real-time notifications about high-risk situations, customers can avoid events risks and improve the quality of their everyday life. Moreover, a smaller number of reported claims results in lower policy premiums and increased customer retention.
Digital transformation enables insurers and customers to cooperate in loss prevention, bringing benefits for both parties.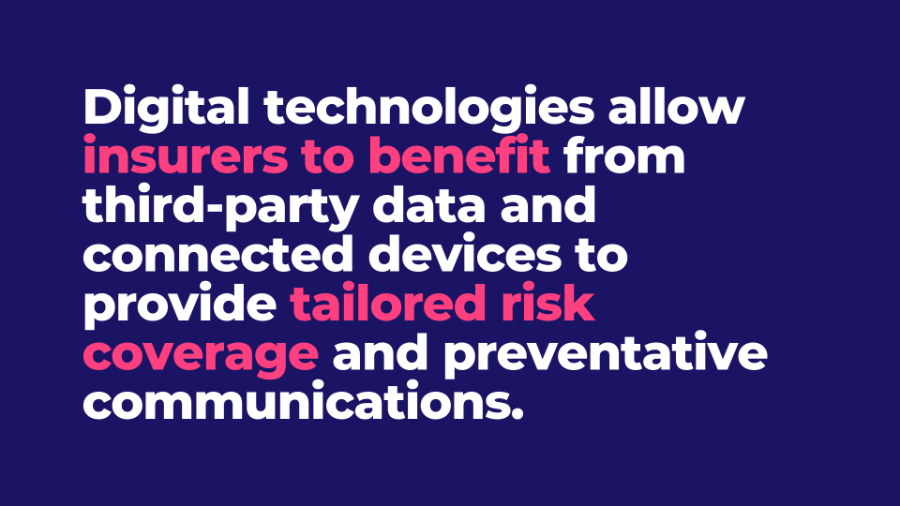 Digital solutions for Insurance leaders
The vast majority of insurance companies understand the need to improve operational efficiencies and customer experience. However, 54% have indicated that they are falling behind in reaching these objectives. If your company ranks among these, it is time to take bold action towards adopting claims process digitalisation. The solutions are available today but require determination and an innovative mindset.
BE-terna Insurance CRM is a tailor-made solution for the insurance industry, built on Microsoft technology, and as such is able to leverage Power Platform capabilities. The collaboration tool extends and complements the core insurance system's capabilities to provide claim process digitalisation and a more prosperous customer and employee experience.
Take a look at our demo to find out:
How to improve customer experience, handle more claims, and overcome current social distancing measures using Insurance CRM with Chatbot as a self-service tool
How to shorten your claims cycle and FNOL qualification to place yourself ahead of your competition with claims automation and real-time integration with AdInsure
How to enhance claims team efficiency and collaboration by utilising real-time operational dashboards and guided business process flows to provide personalised and transparent customer experiences across various communication channels.
**VIDEO**
**CTA**